In April my parents came to England to visit me, and since they drive I wanted to use this opportunity to go to some locations that are not so easy to reach by public transport. Based on a previous visit to Cromer and Sheringham (which are accessible by train) I had already formed a favourable opinion of the North Norfolk coast, and thus we embarked upon a more elaborate tour of this area: Inspired by Sir John Betjeman we would start in Hunstanton, then work ourselves east towards Holkham Beach and Wells-next-the-Sea, and then end the day in Sheringham and Cromer. (Let me note that it is not impossible to explore this route by public transport, since there is the Coasthopper bus service.)
On the way to Hunstanton we visited Royal Wolferton station – a now disused station which Queen Elizabeth (and presumably former monarchs as well) used to disembark at in order to go to Sandringham House for Christmas. Nowadays the whole line from King's Lynn to Hunstanton is no longer in operation, and the Queen has to take a regular Great Northern service to and from King's Lynn (first class though). Nevertheless, the former royal station is persevered beautifully: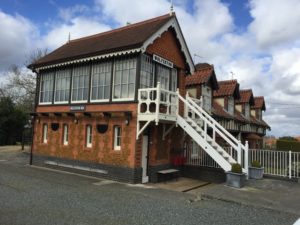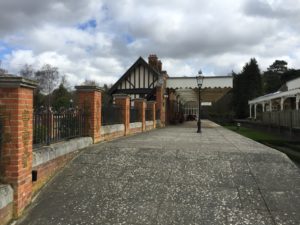 It is now privately owned, but the owners try to open the platform for visitors between 12 and dusk – unfortunately we were a bit too early for that.
After this promising start we then made it to Hunstanton, which was not quite how I imagined it to be. The impression of the sea was somewhat overshadowed by the concrete promenade, the smell of frying oil and the flashing lights and sounds of various pleasure rides – we were quite excited about the (apparently famous) Wash Monster though. The only picture I have is of a Postman Pat kiddie ride: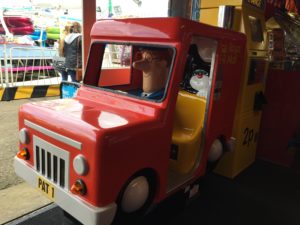 This is because as a child I was really enthusiastic about these rides, especially the music. To my knowledge they didn't exist in Germany, but could be found in Denmark where we used to go on holiday (Postman Pat is called Postmand Per there). I have never seen any episodes of the actual TV series though.
About 30 minutes after paying for parking we decided to venture on, our destination being Holkham Beach. I had heard that this is one of the nicest beaches in Norfolk, so our hopes were high. Also, I had seen shots of it while watching Kingdom, a TV series with Stephen Fry set in Norfolk, which is sometimes kind of funny, and does make the beach look impressive indeed.
We enjoyed the drive there along the narrow but very scenic coastal route, on which nevertheless caravans are transported: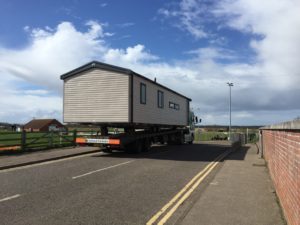 We weren't disappointed by the beach itself either. It is vast and it took us a while to actually see any water.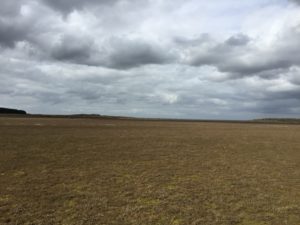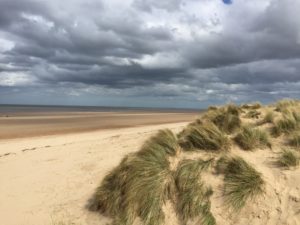 From Holkham it is not far to Wells-next-the-Sea, which I had decided should be our next destination. It would have been very nice to walk there along the beach, however here a drawback of travelling by car became apparent: Eventually one always has to go back to where one parked it. Because of this, in the end only I walked, whereas my parents went back to the parking lot, the plan being to meet up again at Wells. Along the coast there are pine trees, which I really enjoyed since they are not so common in East Anglia, and – like Postman Pat – once again reminded me of previous childhood holidays in Denmark.
I was reunited with the parents in Wells. Since the town was very crowded we decided not to stay there for longer after all, but to continue eastwards to Sheringham. There the principal goal was to have cream tea: On a previous visit I had been to a tea house there and thoroughly enjoyed it, and I had stressed this fact to my parents in order to make going to the Norfolk Coast more desirable. Consequently there were high expectations.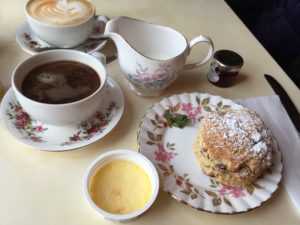 I had not checked in advance until when the relevant cafe was open, which proved somewhat unfortunate now, since we arrived there at 3:45pm, and closing time was 4pm. The cream tea we had could therefore not be enjoyed to the extent it would otherwise have been possible, given that we only had 10 minutes and were surrounded by people cleaning up. This experience made my parents wonder whether our first stop in Hunstanton had been such a good idea.
Luckily the rushed cream tea incident did not dampen the mood, since Sheringham has much to offer (I am such a big fan that I even own a Sheringham poster). There is the North Norfolk heritage railway, for instance, which I had the pleasure to actually use not long after the trip currently under description: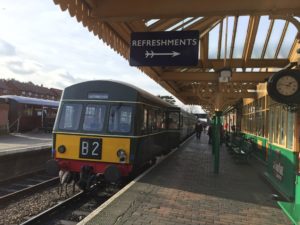 Sheringham Park also deserves a mention, though we did not visit it on that day either: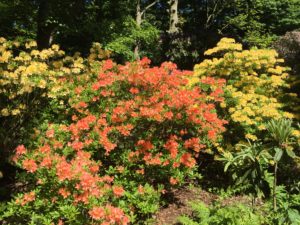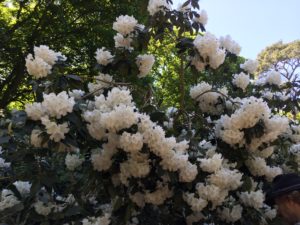 What we actually did was to walk along the coast a bit, which features good cliffs. Particularly interesting is the Beeston Bump, a hill which apparently inspired Conan Doyle when writing the Hound of the Baskervilles.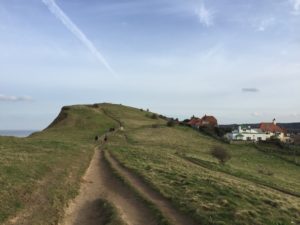 The view from up there can also be recommended: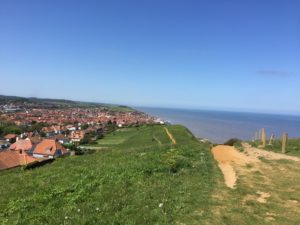 After wandering around for a good while we went to a pub for dinner. After some discussion it was decided that we also briefly check out Cromer before heading home again. The sun was already setting, but I have a daytime picture from another time which provide a good impression of Cromer's Victorian pier: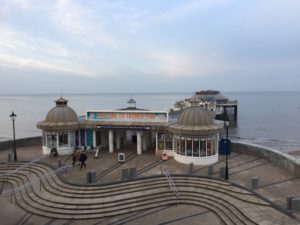 It even won the Pier of the Year award by the National Piers Society in 2015.
Of course no visit to the seaside would be complete without going to an amusement arcade, and for sure I did that as well. Since this was not too different from experiences described previously I will close without further elaboration though. Despite some complications this tour along the North Norfolk Coast was a pleasant experience overall.