In the autumn of 2022 I lived in Massachusetts for two months. I stayed in the city of Somerville, the northern neighbour of (the other) Cambridge, which is in turn separated from the city of Boston by the Charles River (see header). American cities, towns, and other municipalities tend to be small, and in order to simplify matters no harm is done by saying that I lived in Boston.
When I arrived in early September the weather was splendid and it remained so until I left in early November, so there were plenty of opportunities to go on walks. Since I like combining theory and practice I had hoped to use Henry David Thoreau's writings as a guide to exploring Massachusetts. Thoreau lived in Concord, a small town roughly 15 miles to the west of Boston, which was also home to various other writers. Nowadays Concord is part of the Boston suburbs, but it has remained relatively quaint and idyllic. Thoreau occasionally suggested that everything of interest is contained in it, commenting that "most of the phenomena noted" in an account of an expedition to the Arctic "might be observed in Concord". He thus saw no need to travel very far or very often. Thoreau was an enthusiastic walker, however, and wrote extensively about his ramblings around Concord and other parts of Massachusetts and New England.
On paper this seemed like a perfect fit. Just as Sebald, M. R. James, and Graham Swift provided inspiration to explore various parts of East Anglia, Thorau could lead me to interesting areas in Massachusetts. Or so I imagined. For when it came to actually reading Thoreau, I found the experience unenjoyable. I strategically avoided Walden because I was worried that its use in inspirational quotes would put me off, and instead started with the promising-sounding essay "Walking" from The Atlantic. But the writing style struck me as so annoying and pretentious that I didn't manage to finish it. I tried Thorau's Concord-neighbour Ralph Waldo Emerson's "Country Life" as well, with similar results.
These disappointing encounters led me to set the theory of walking aside in favour of the actual activity. On an especially warm Sunday I thus took the train to Concord to explore the famous Walden Pond, home to Thoreau's attempt to live in the woods. The site of this cabin is located conveniently close to the town centre, and it was pleasant to swim in the pond.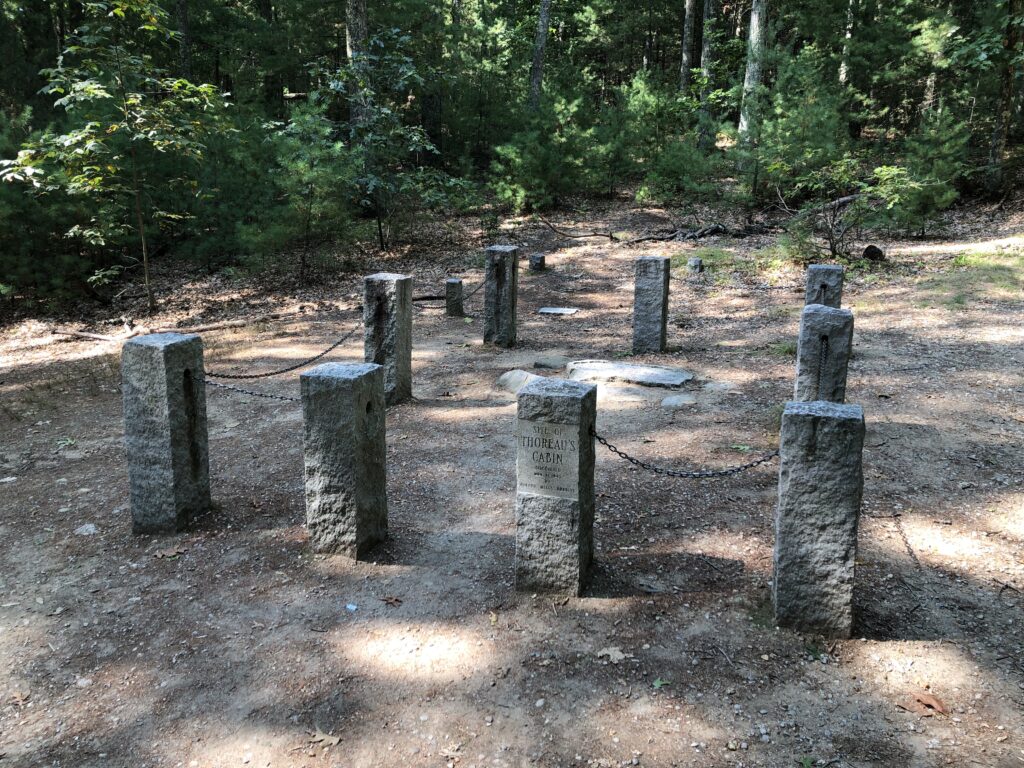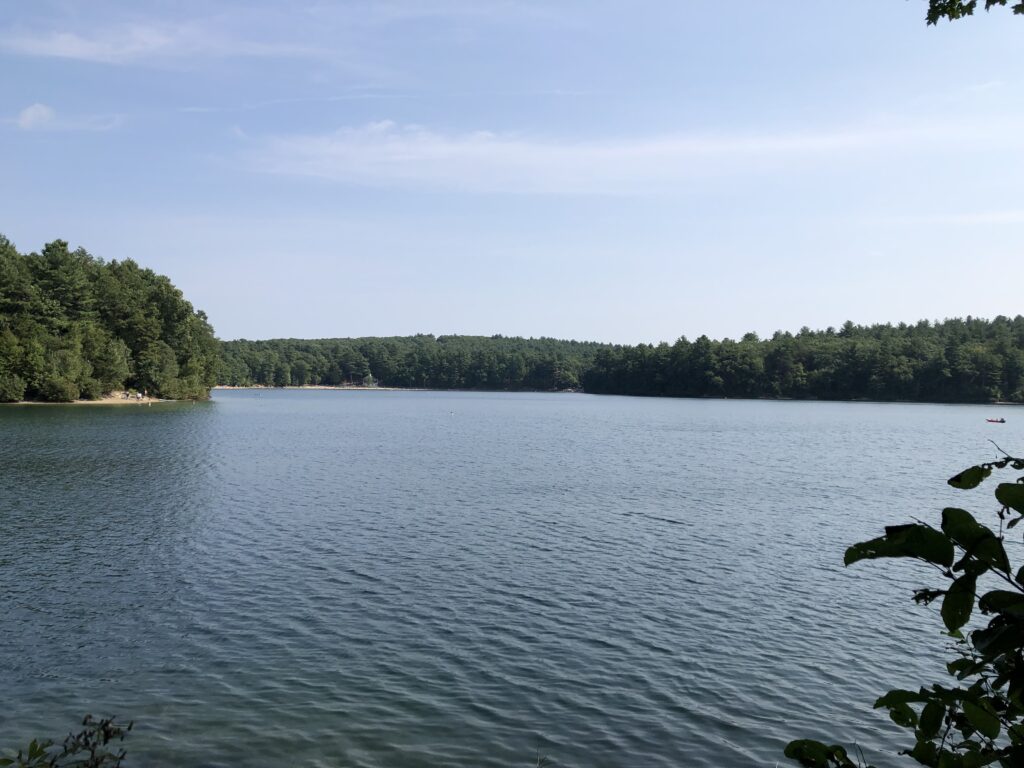 In "Walking" Thoreau makes the following observation about access to land:
At present, in this vicinity, the best part of the land is not private property; the landscape is not owned, and the walker enjoys comparative freedom. But possibly the day will come when it will be partitioned off into so-called pleasure-grounds, in which a few will take a narrow and exclusive pleasure only, — when fences shall be multiplied, and man-traps and other engines invented to confine men to the public road, and walking over the surface of God's earth shall be construed to mean trespassing on some gentleman's grounds.
This prediction has, sadly, become reality. Nowadays Eastern Massachusetts is very densely populated, and land to roam around in is sparse. Being the Bay State, I had for instance assumed that there would be plenty of coastal walks, but this turned out to be incorrect. For while there is not shortage of coast, there are no public rights of way as they exist in Britain, and so it is largely inaccessible for everyone apart from the owners of the relevant properties.
Finding good places to walk was thus a bigger challenge for me than for Thoreau, especially since they had to be reachable by public transport. One good option was the Skyline Trail in the Blue Hills to the south of Boston, since both its start and end point are reachable by bus. Sort of, at least. First I had to take the cute Mattapan Trolley which relies on streetcars that were originally built in the 1940s. When I wanted to tap my card to pay the fare after boarding, the driver kindly told me that this is unnecessary, since no one else ever pays either.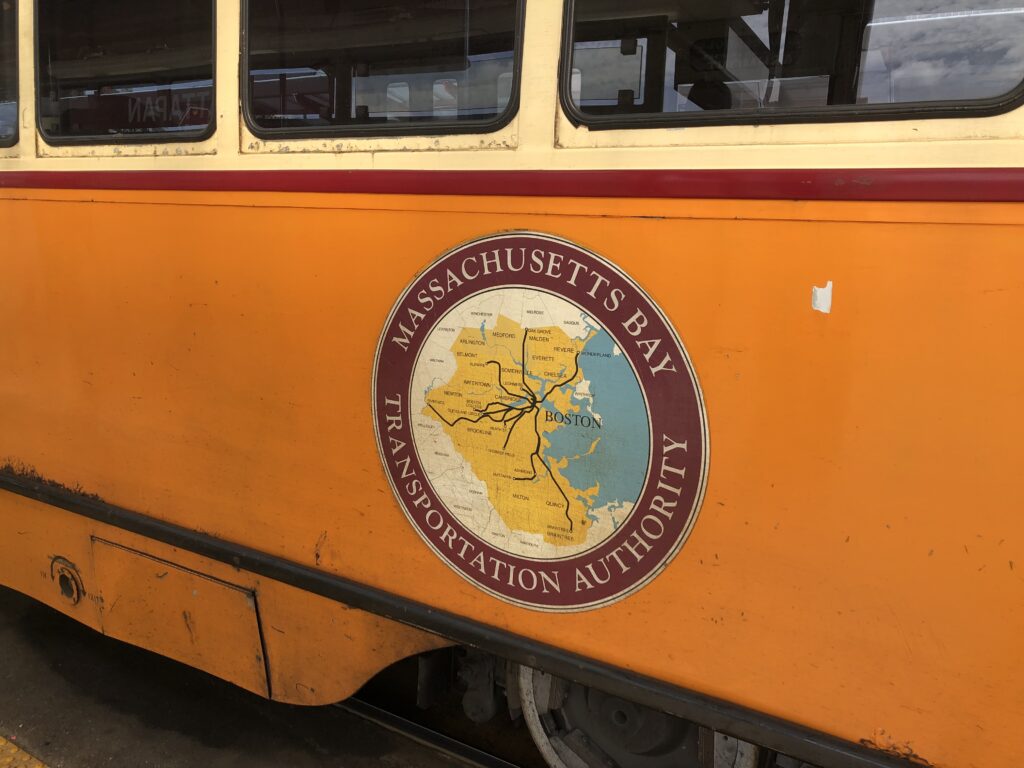 At Mattapan I then waited for the somewhat mysterious bus 716 that was supposed to bring me to the trailhead. This is the bus with the highest number in the whole system, and it is operated by an external contractor, not the MBTA (which runs most of the public transport in the Boston area). At the station there was a timetable, but no indication of where exactly the bus would depart. Close to the scheduled time a vehicle appeared that did not look much like a regular bus, but had a paper sign saying "716" on it. I was the only passenger. The fare was collected by putting cash into a box, and it was not necessary to have enough for the full fare. The in every way excellent Miles in Transit blog contains a more detailed review of this unusual route, though unlike the one described there my driver was very pleasant, and so I could soon start exploring the Blue Hills.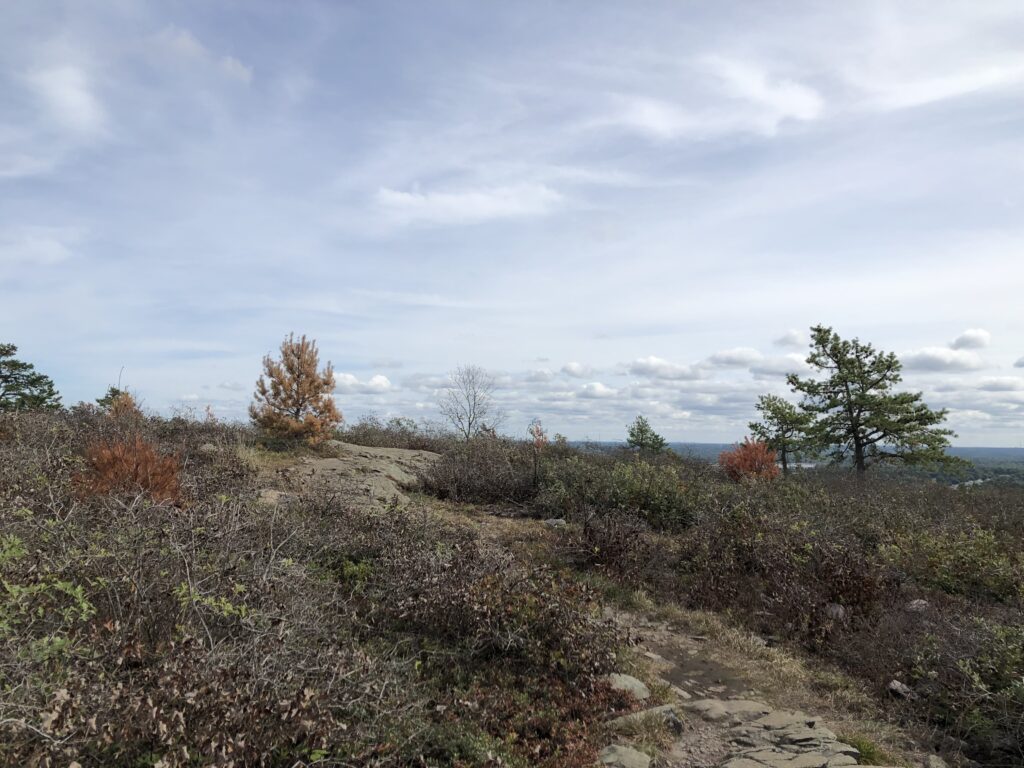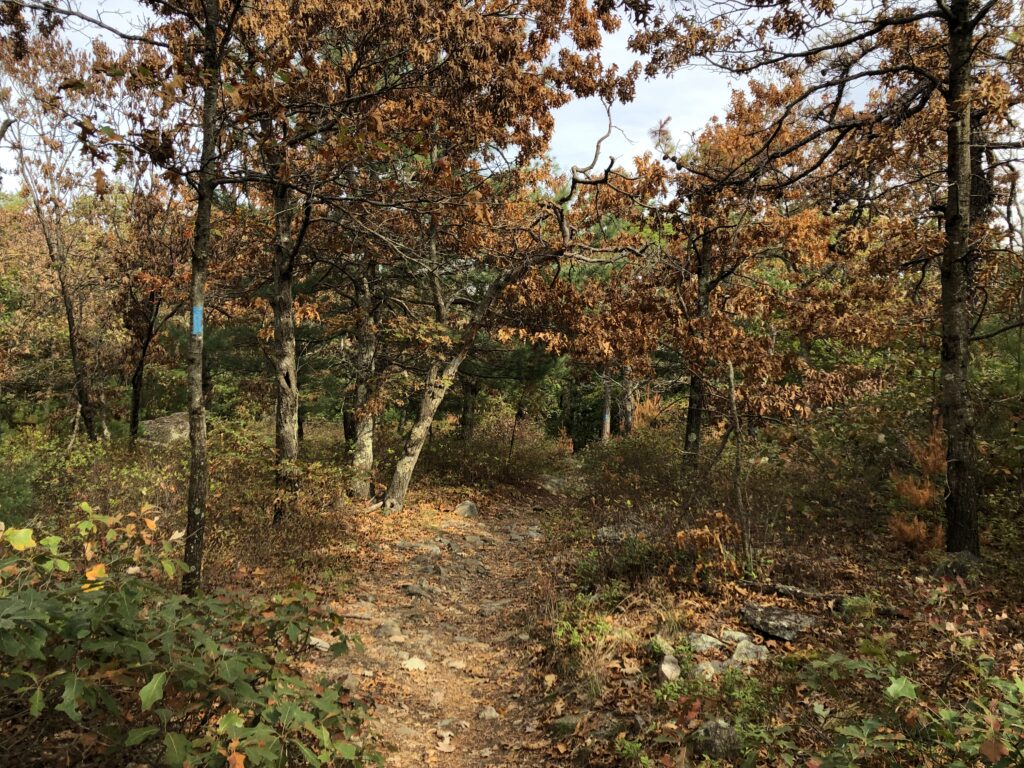 The Skyline Trail was scenic and interesting, with many rocky ascents and descents. My only complaint is that the official routing leads one to a point where Massachusetts Route 28 needs to be crossed without a traffic light or zebra crossing. When I arrived at this point the road was incredibly busy, with no gaps in the traffic in either direction. I did not feel like trying to get the cars to stop by boldly venturing ahead, and luckily managed to find a nearby crossing with traffic lights. There is an initiative to improve the routing of the trail already.
Eventually I decided that I should give Thoreau another chance. This time I approached his work in a more indirect way by buying Ben Shattuck's recent book Six Walks. It starts with the author experiencing an existential crisis. In order to overcome it, he decides to retrace a walk by Thoreau along the eastern beaches of Cape Cod. This outing is a success, and he proceeds to go on a number of other Thoreau-inspired walks. By the end of the book the existential crisis is overcome, and one will be pleased to find that the Shattuck's life is now going extraordinarily well.
Six Walks made me curious enough to pick up Thoreau's Cape Cod, and I also booked the ferry from Boston to Provincetown for the last weekend before the season ended. Thoreau describes taking the ferry during his own time as follows:
Mild as it was on shore this morning, the wind was cold and piercing on the water. Though it be the hottest day in July on land, and the voyage is to last but four hours, take your thickest clothes with you, for you are about to float over melted icebergs. When I left Boston in the steamboat on the 25th of June the next year, it was a quite warm day on shore. The passengers were dressed in their thinnest clothes, and at first sat under their umbrellas, but when we were fairly out on the Bay, such as had only their coats were suffering with the cold, and sought the shelter of the pilot's house and the warmth of the chimney.
I can confirm that this is still accurate. I had planned to stay on deck during the whole journey, which nowadays only takes 90 minutes, but it quickly became very cold, and contrary to Thoreau's recommendations I had not brought warm clothes. I hoped that I could at least be resilient enough to be the last person to retreat to the cabin, but unfortunately did not manage that either.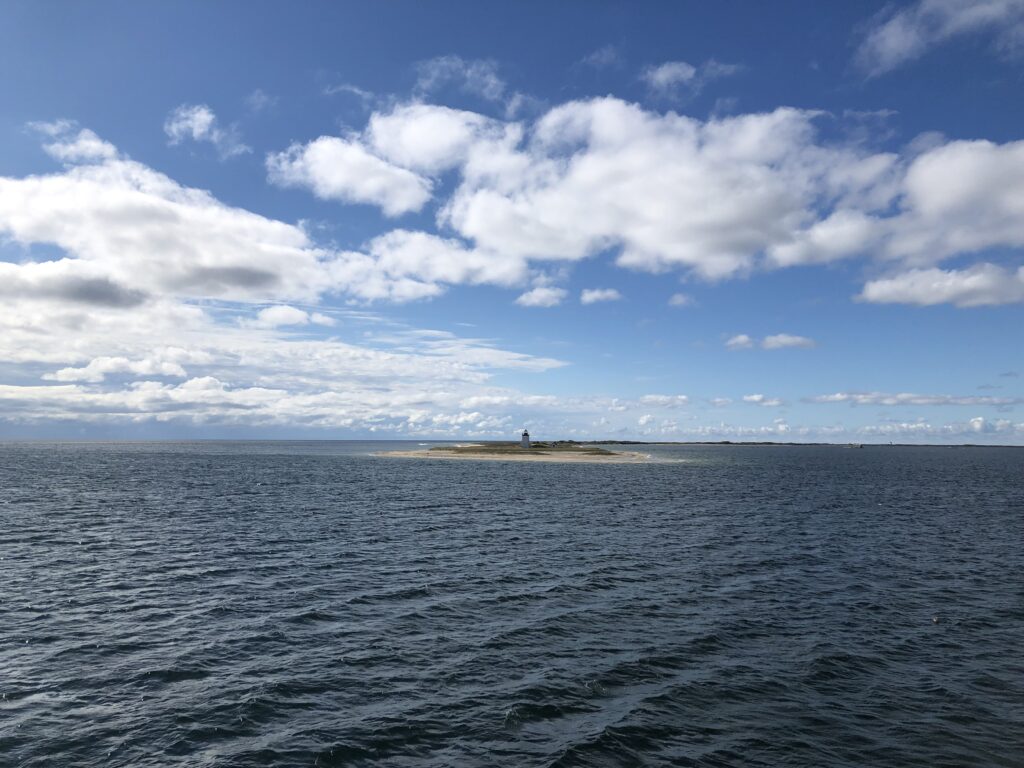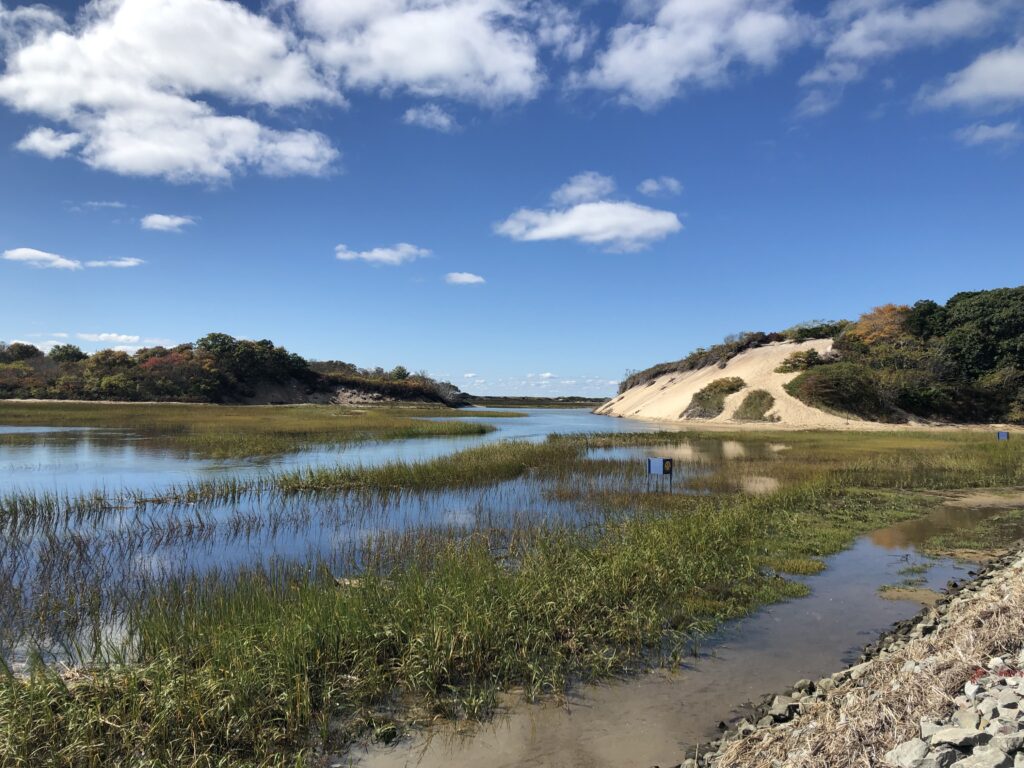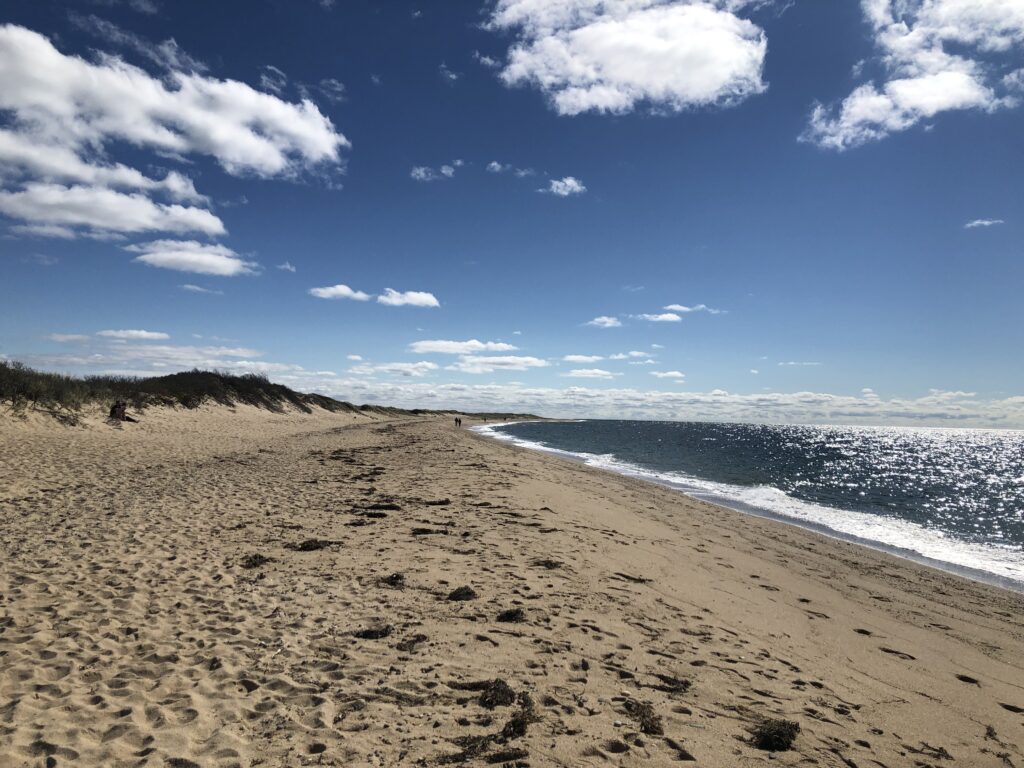 Cape Cod was beautiful and reminded me of Denmark, which is a good thing. A connection to East Anglia is established by the following anecdote about beach peas Thoreau found in a scientific article about the plants on the Cape:
We read, under the head of Chatham, that "in 1555, during a time of great scarcity, the people about Orford, in Sussex (England) were preserved from perishing by eating the seeds of this plant, which grew there in great abundance on the sea-coast. Cows, horses, sheep, and goats eat it." But the writer who quoted this could not learn that they had ever been used in Barnstable County.
This story is taken from John Stowe's The Chronicles of England, in which we find that the Orford in question is actually the one in Suffolk, south of Aldburgh. According to Stowe the beach peas in question miraculously appeared when food in the region was scarce. Word about this apparent miracle reached the Bishop of Norwich, who came to investigate but only found rock. And this is not even the most unusual thing said to have happened in Orford. Stowe's chronicle also contains the tale of a wild man that came from the sea, originally noted by Ralph of Coggeshall:

Near unto Orford in Suffolk, certain Fishers of the Sea took in their nets a Fish having the shape of a man in all points, which Fish was kept by Bartholomew de Glanville, Custos of the Castle of Orford, in the same Castle, by the space of six months and more for a wonder: he spoke not a word. All manner of meats he gladly did eat, but most greedily raw fish, after he had crushed out all the moisture. Oftentimes he was brought to the Church, where he shewed no tokens of adoration. At length when he was not well looked to, he stale away to the Sea, and never after appeared.
Orford and environs continued to attract excitement well into the 20th century. The Orford Ness peninsula was used for various military experiments and as a base for radar transmitting stations. Until 2020, when it had to be demolished due to erosion, there was also a lighthouse. While not unusual for coastal places, this particular lighthouse arguably played a role in what is known as the Rendlesham Forest Incident. In 1980 personnel of the US Air Force were stationed at the RAF base in Woodbridge, at the edge of Rendlesham Forest. One evening in December one of the Americans, a Colonel Halt, observed unusual lights which he took to be UFOs. The story took off and received plenty of coverage, with some going as far as calling it "Britain's Roswell". Supposing that there were no actual aliens involved, the Orfordness lighthouse is a likely candidate for being the source of the unusual lights of that December night.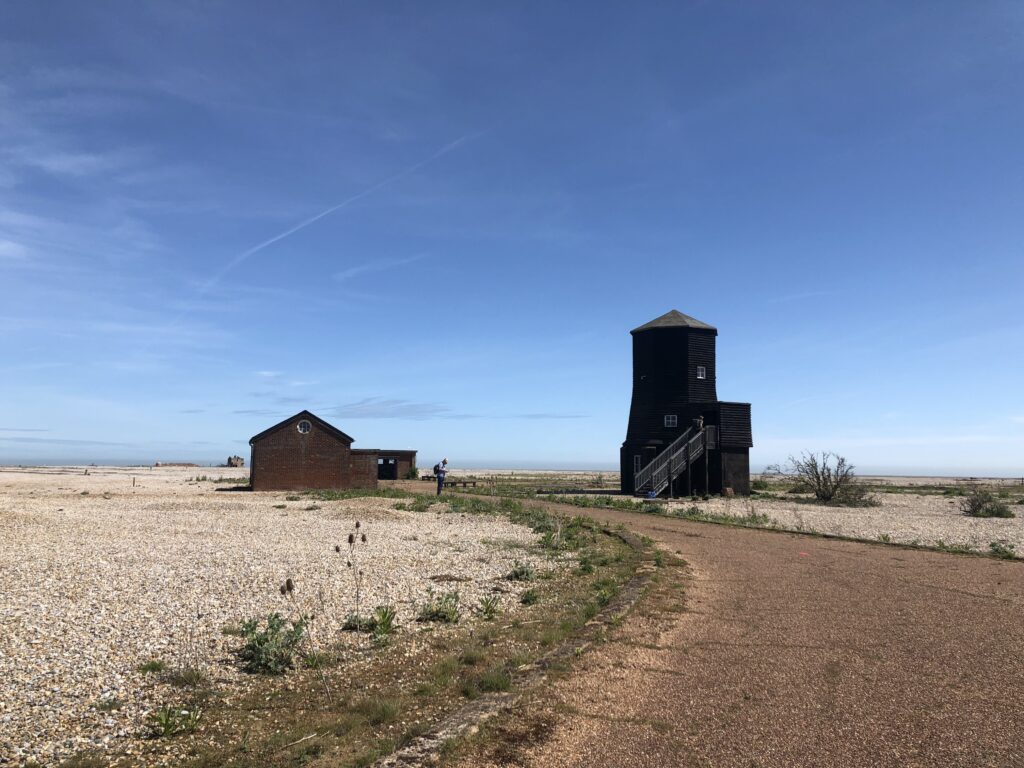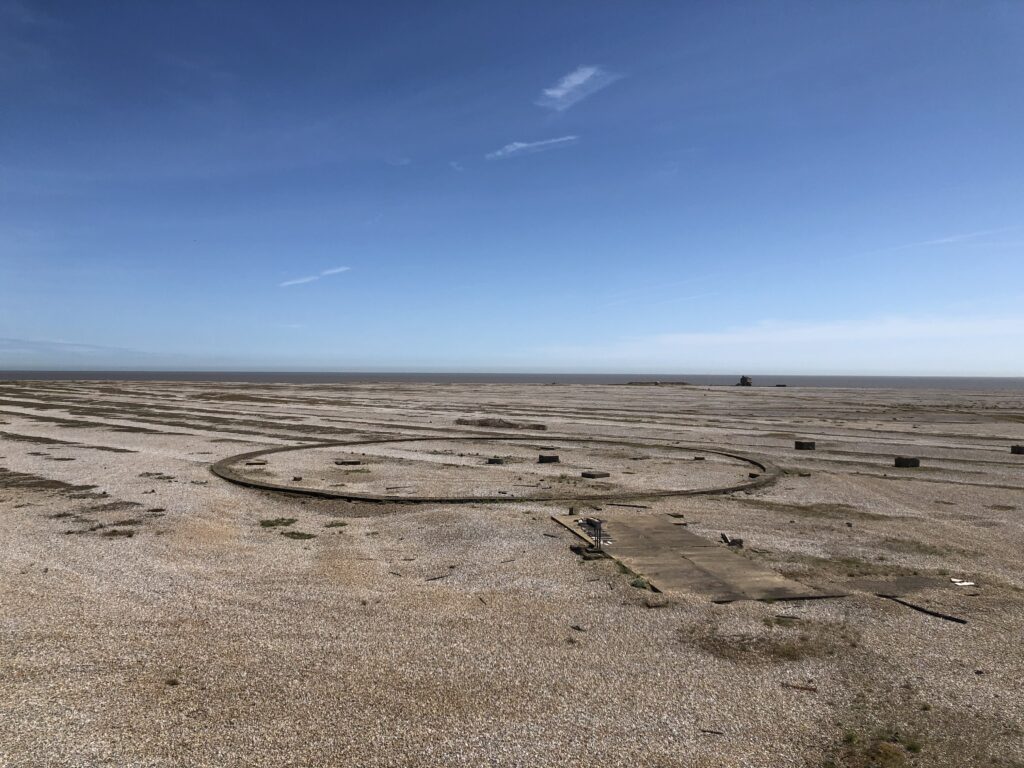 This brings us back to Massachusetts. The western part of the state is more hilly and less densely populated than the east, and the Berkshires in the far west are a popular holiday destination both for New Englander and New Yorkers. It is there where, on September 1st 1969, a UFO incident took place which is famous enough to have made it into a Netflix mystery documentary. Supposedly over 250 people saw mysterious lights in the form of white orbs, and some even reported being abducted. The documentary remains neutral and does not aim to debunk the story, but it nevertheless left me unconvinced. 250 witnesses are a high number, but most of the coverage relies on a small number of especially vocal people. It is claimed that the local radio station received dozens of calls on the night of the indecent, but since there are no recordings this is impossible to verify. Newspapers from the following days and weeks, on the other hand, are still around, but no mention of the incident could be found in any of them. One explanation for this is a conspiracy to hide the true facts about UFOs, but is it the best one?
In late October headed to the Berkshires myself by taking the Amtrak from Boston to Pittsfield. Not to find aliens but rather to hike up Mount Greylock, which at 1,063m is the highest point in Massachusetts. Once again detailed stories about buses could be told, but I will spare readers and just note that I successfully made it to the top, enjoyed the view, and equally successfully descended back down into the valley.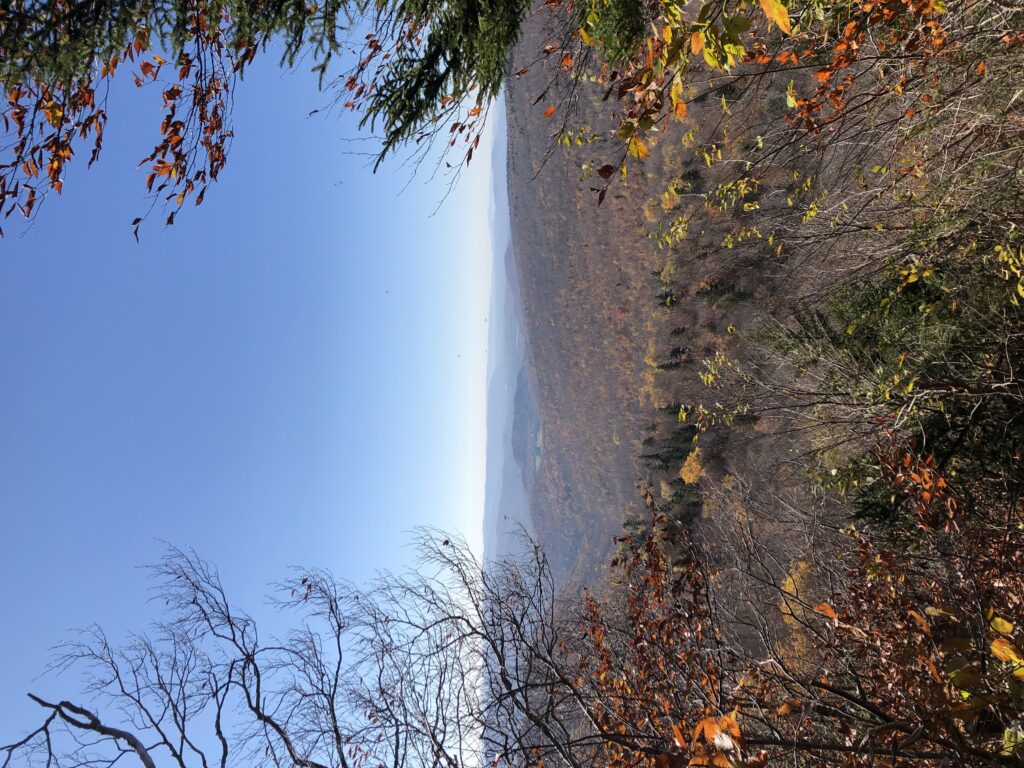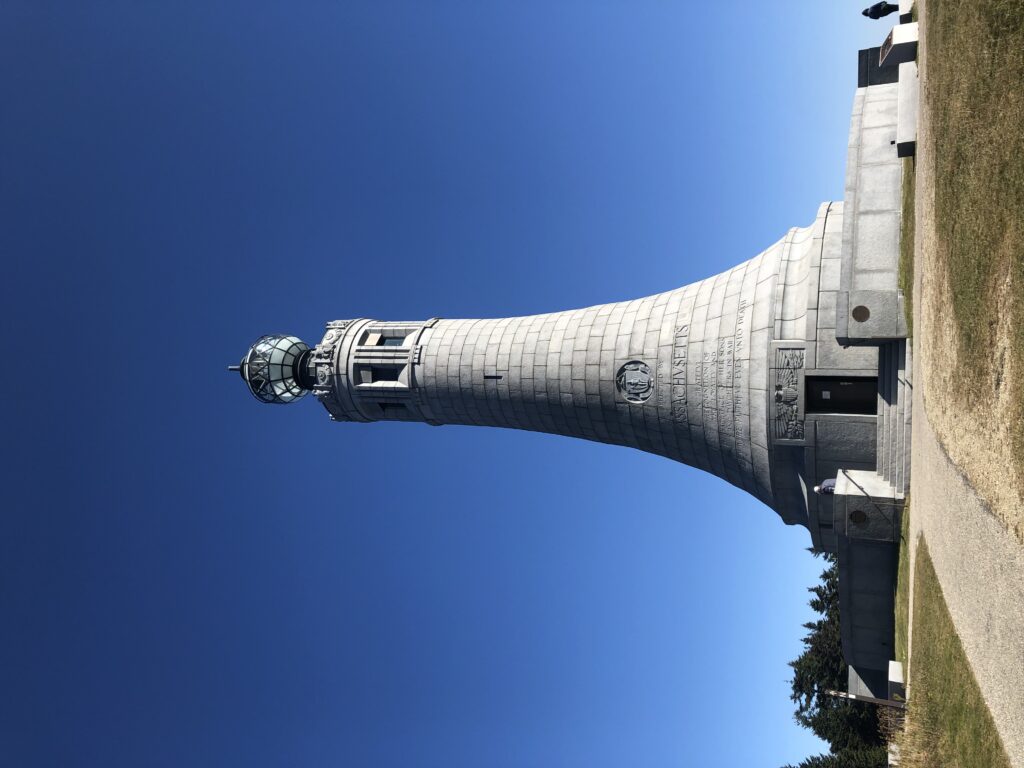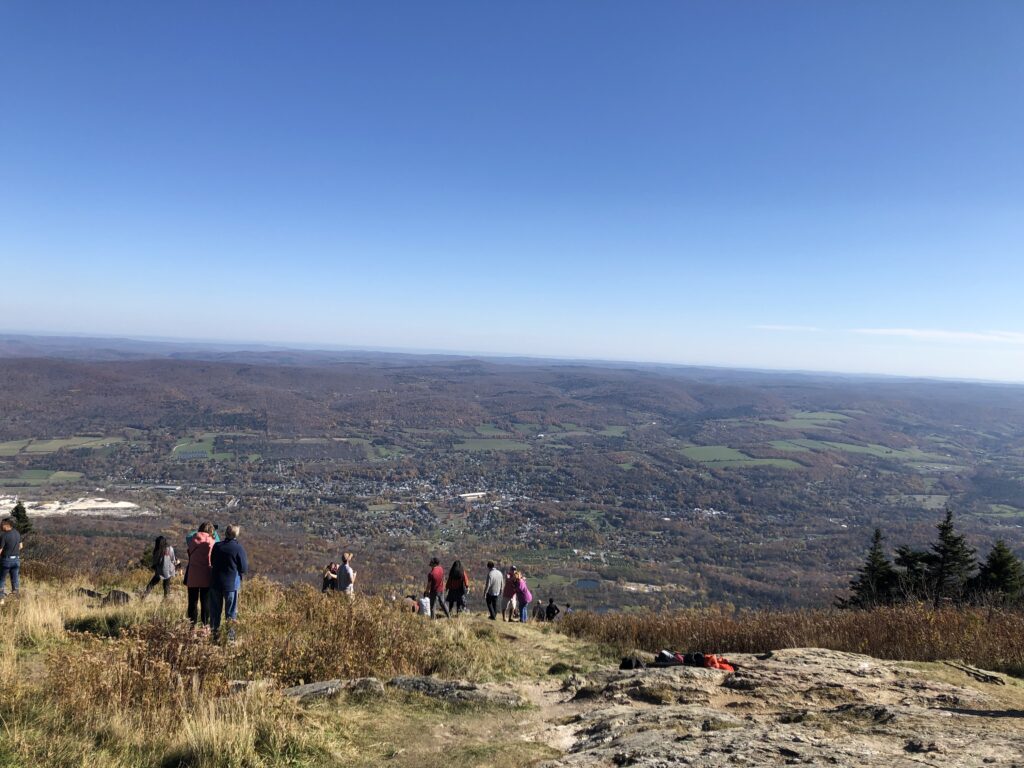 Thoreau visited Mount Greylock as well, as did Shattuck, as did Bill Bryson. The most memorable literary representation of the Berkshires I have come across, however, is Edith Wharton's short, bleak, and beautiful Ethan Frome. Its readers will likely avoid sleds for the rest of their lives. In sum, Massachusetts thus did not disappoint: It had plenty to offer for walkers both of the theoretical and the practical kind.