I grew up and went to school in a medium-sized city in the west of Germany, located roughly halfway between Cologne and Frankfurt. When I was around 16, we went on a school trip to England. We did not go to London. We did not go to Oxford, Cambridge, or maybe Brighton. We did go to Clacton-on-Sea, on the Essex coast. More specifically, we went to a caravan park on the outskirts of Clacton.
This did not seem so strange at the time. Looking back, however, Clacton strikes as me as a very unusual destination for the school trip of a German school. Who decided on the Essex coast, and for what reason? Was the experiment repeated? In recent years I have often wondered about this, but doubt that I will ever know the answers.  The only clear connection between my hometown and Clacton I have been able to ascertain is related to a fried chicken restaurant which I will call FC. In Britain, FC can be found in many cities. In Germany, there is exactly one branch – which happens to be located where I grew up. It is legendary for being open until very late at night, thus providing food to partying teenagers. This striking fact raises questions of its own – why is there only this one branch, why is it here? – but it hardly answers the puzzle of how I ended up at a Clacton caravan park for a week.
I still have some distinct memories of the trip. We travelled by coach, taking the ferry to Harwich, and on arrival at the caravan park the coach stopped next to a football field. While waiting for the doors to open, we watched two boys involved in a fight rolling around on the ground outside. I remember plenty of tinned ravioli and creatively seasoned pasta. I do not recall any day trips for sightseeing, but I do remember a trip to a big Tesco supermarket.
Some years ago I identified the exact location of the caravan park from my youth, and had been meaning to go on a trip down the memory lane ever since. On a very fine day in early January 2023 I finally implanted this plan and headed to Essex's sunshine coast, starting in Walton-on-the-Naze and heading south towards Clacton, Jaywick, and St Osyth.
Walton-on-the-Naze has a pier, but one's attention is quickly drawn away from it by the large number of colourful beach huts. I have been on many coastal walks, but I had never seen this many beach huts of all shapes and varieties before.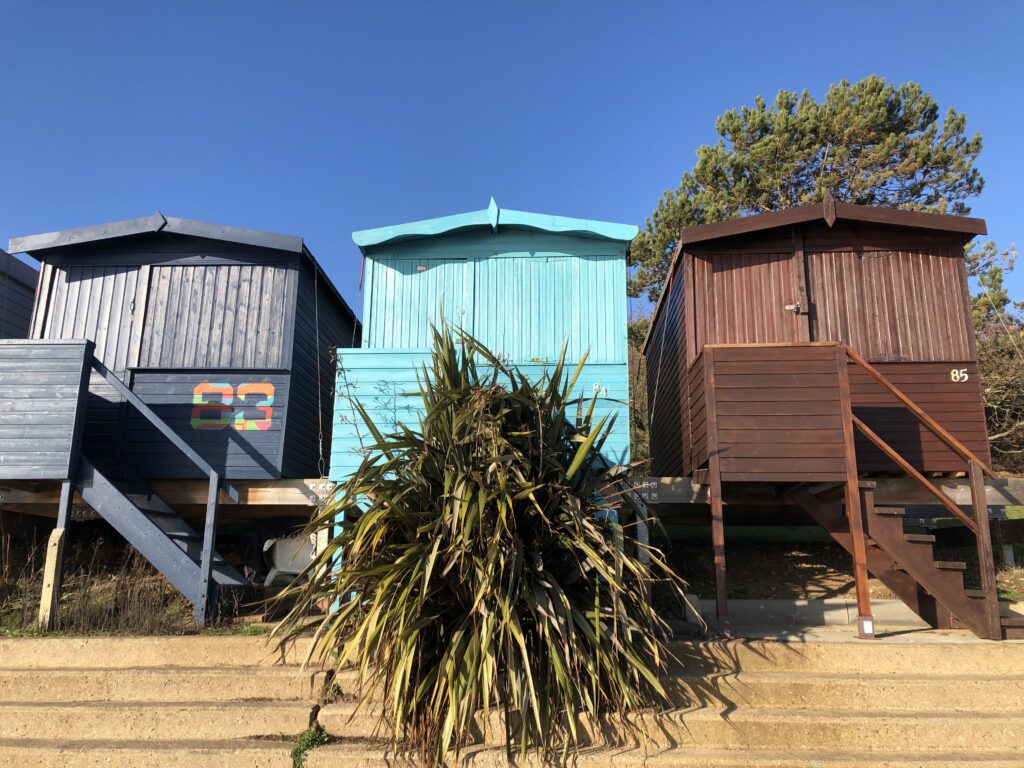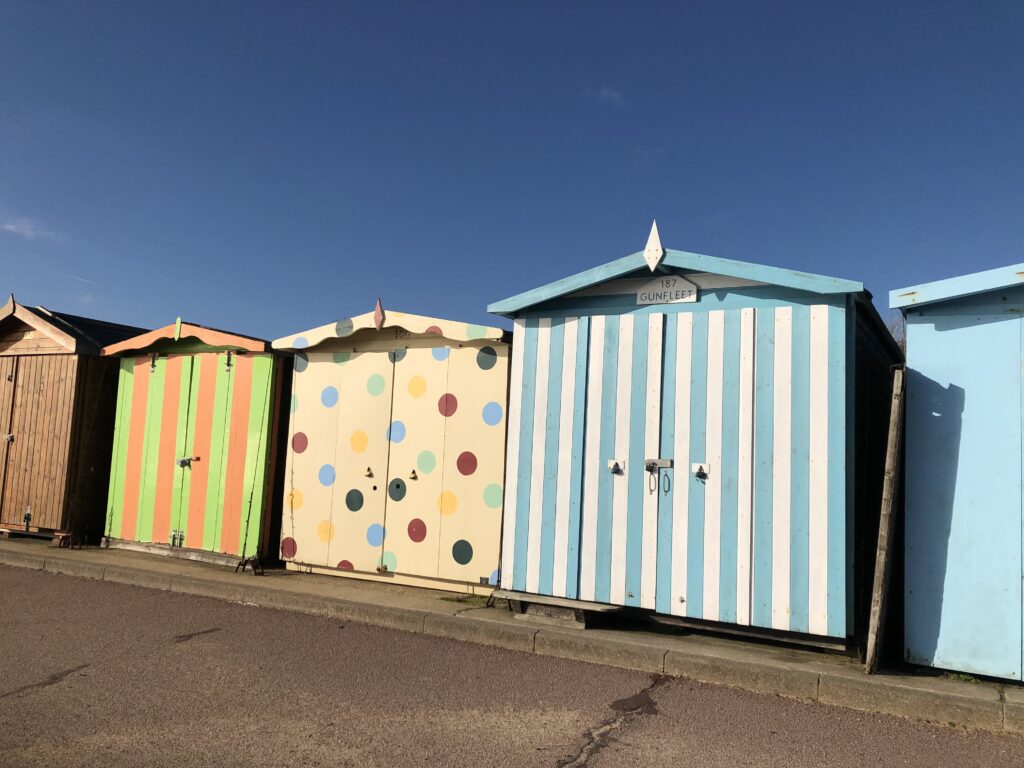 While they exist in other countries, to me beach huts feel like a very British, or maybe even English, phenomenon. This feeling might have been influence by R. C. Sherriff's 1931 novel The Fortnight in September. It follows the Stevens family from Dulwich in south London on their annual two-week holiday to Bognor Regis. There is little discernible action, but Sherriff excels at empathically describing the hopes, dreams, anxieties, and annoyances of everyday life. Among the various trials and tribulations the Stevenses face, one concerns the "the booking of the bathing hut" which "was always done on their first evening walk". For a long time they are on the fence about which type of hut to rent: an ordinary, plain one or a more upscale – and hence more expensive – model with a small balcony. Finally the decision to indulge in the more luxurious hut is made – but then none of that type turns out to be available! Luckily the disappointment doesn't last long, since they are able to rent one that becomes available on the following day. General contentment results:
It could not possibly have worked out better: they would not only save five shillings, but they would enjoy the hut much more through having to wait for it. It was theirs now, to all intents and purposes: they would stroll by and look at it tomorrow: they would picture themselves grouped round it—sitting on the balcony, hanging their bathing dresses over the rails—and then on Tuesday night they would unlock the door and go in: they would sit just inside and look out over the moonlit sea, and the soft music of the band would come to them faintly on the wind.
Beach huts are not popular in Germany. Instead, we have Strandkörbe – "beach baskets", so-called because they are weaved, similarly to actual baskets. They are meant to provide shelter from sun and wind while sitting on the beach. Strandkörbe were invented in Rostock in the late 19th century, and to this day they are extremely popular on both the North Sea and the Baltic Sea coasts.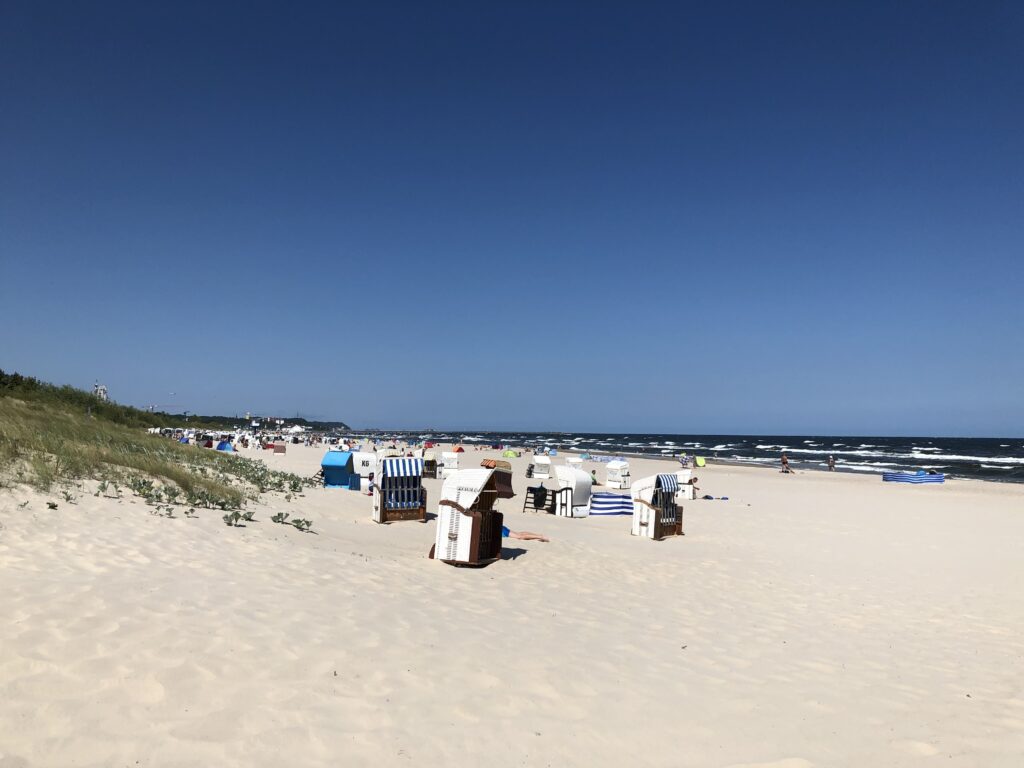 Outside of Germany, on the other hand, Strandkörbe are virtually non-existent, and hence there is not even an English term for it. One feels that their popularity must reveal something about the nature of Germanness. But it is hard to say what exactly. One salient stereotype is that Germans like to reserve spaces at the pool by putting down towels early in the morning, so a desire for securing a basecamp close to the water looks like a promising explanation. But this could arguably be fulfilled by beach huts rather than Strandkörbe as well, and so the German preference for the latter options remains mysterious to me. (A related but equally tricky question: If Austria had access to the sea, would Austrian beaches have Strandkörbe?)
To the south Walton is bordered by Frinton-on-Sea, which has no pier, and, until 2000 didn't even have a pub. A large share of the population is retired, giving the place a quiet, conservative, and genteel character. Less flatteringly, a saying has it that while the aforementioned and nearby Harwich is for the continent, Frinton is for the incontinent.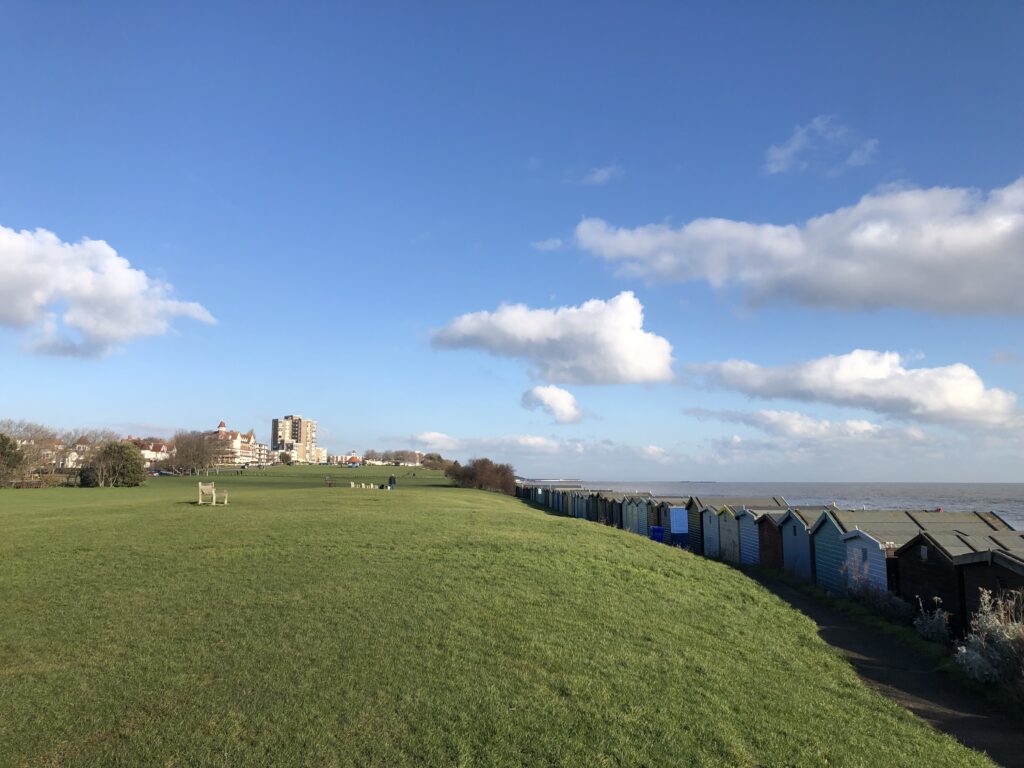 Much of Frinton lies between the sea and the railway line. There is only one access road, and when the barriers at the railway crossings close Frinton is thus temporarily isolated from the rest of Britain, similarly to Mersea Island with its Strood. Until 2009 the railway crossing was operated manually, with a person opening and closing the "Gates" when trains approached and left. Living "within the Gates" is a status symbol, and Frintonians are passionate about them. When a plan by Network Rail to replace the manually operated barriers with an automatic system became known, fierce opposition ensued. The thought that some "lunatic in Colchester" would remotely operate the Frinton barriers shocked many residents, and a representative of Network Rail was booed at a public meeting. At a rally, slogans like "What do we want? The Gates!" were shouted. Intimated by such a forceful showing, Network Rail resorted to sneakily removing the old gates in the "cover of darkness" at 2.00am in the morning, when everyone was asleep. The whole saga is recounted in an excellent BBC documentary, which features a several interesting Frinton personalities.
Clacton, on the other hand, is flashy, with a massive pier, a ferris wheel, amusement arcades, and an upside-down house.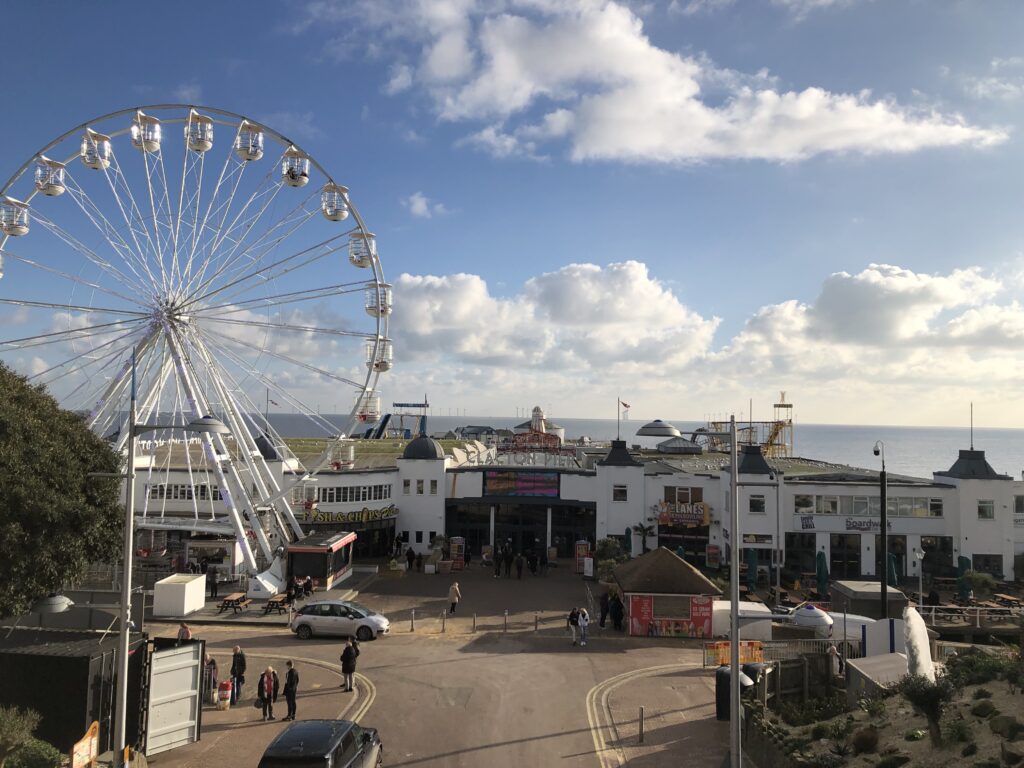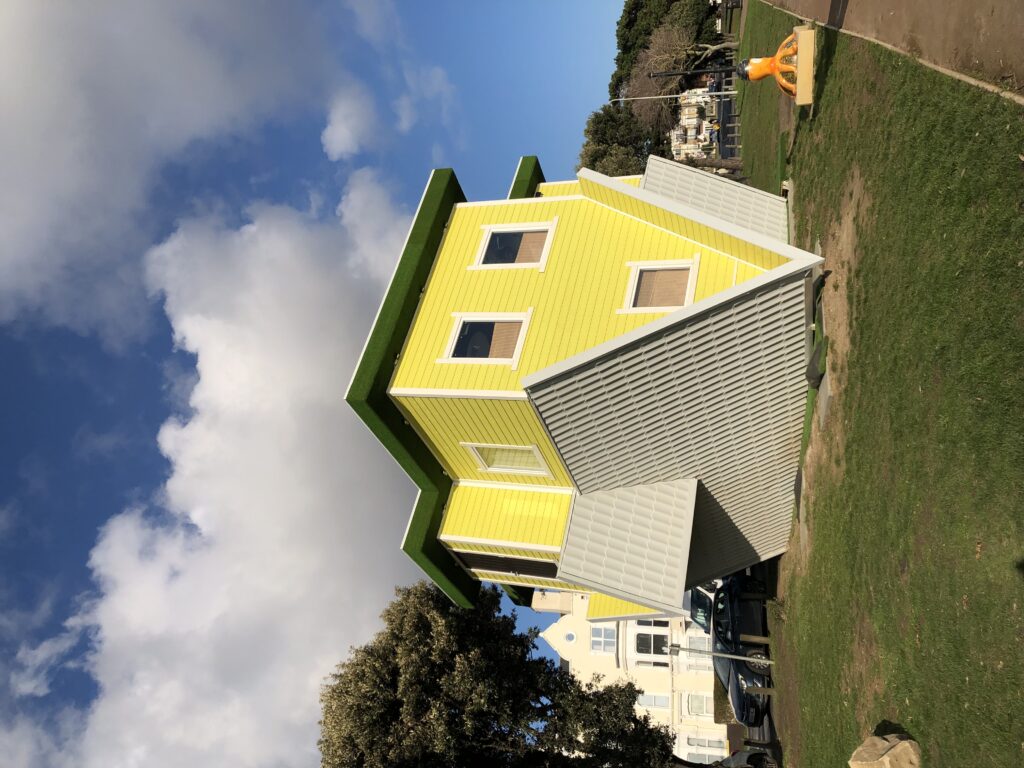 I did not have much time to explore Clacton proper as I was still quite far away from the sought-after caravan park, but I spent some time playing on a penny pusher in one of the arcades. I wrote about my passion for these machines on two previous occasions, and it is now appropriate to elaborate on the origins of this fascination. On the last day of the Essex school trip, I had still around £20 in cash. Since I didn't want to take them back to Germany I looked for ways to spend money, and stumbled across a tiny arcade that was part of the caravan park. It had a coin pushing machine, and I had plenty of fun with the approximately 1000 2p coins I threw into the machine.
Heading further south from the centre of Clacton I soon reached the coastal village of Jaywick. It is somewhat notorious for having been named the most deprived area in England several times. Until the 1930s this area was just marshland, but then developers started to encourage people to buy land at affordable rates in order to build holiday homes on it. Many made use of this opportunity, but the houses that resulted were often of poor quality and not very suitable for living in them all year round – which became more and more common nevertheless. Despite some redevelopment efforts many properties in Jaywick are in bad shape even today, and I walked past more than one boarded-up prefab along the seafront.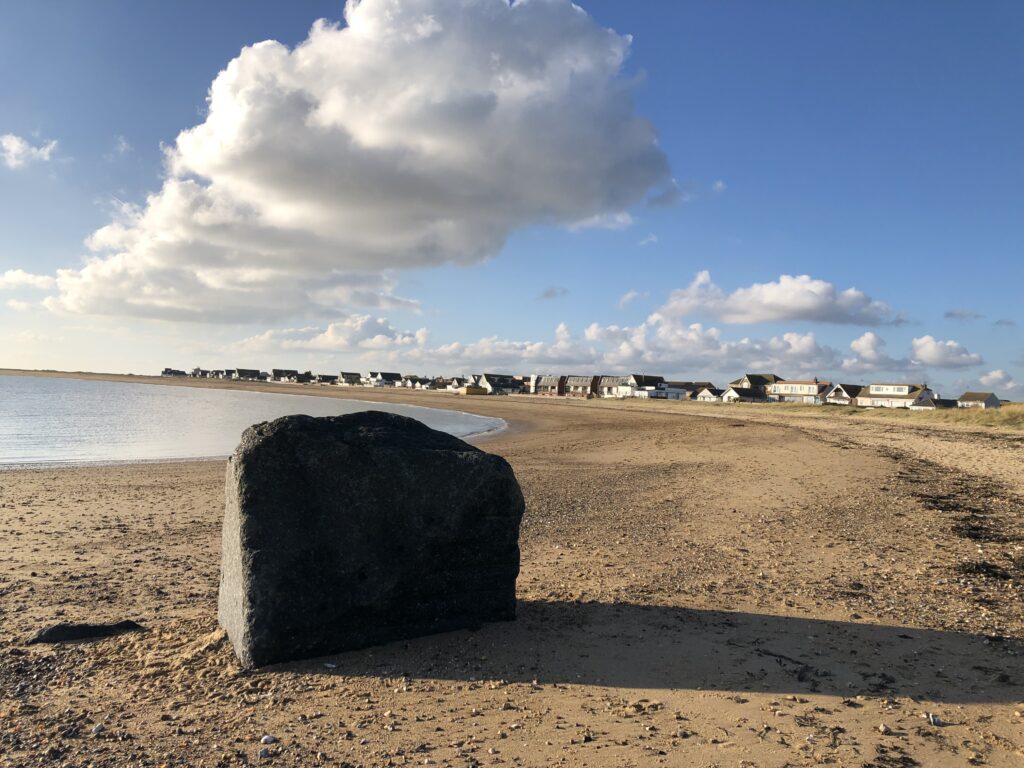 Given its remote location unemployment is also high, which together with the poor housing conditions leads to various other social problems. In recent years life in Jaywick has been covered in a number of documentaries, some better than others. Without such prior priming, to a casual visitor Jaywick will probably not appear more badly off than many other towns on the East coast though.
Past Jaywick the big moment has finally come: the caravan park I stayed at around 15 years ago.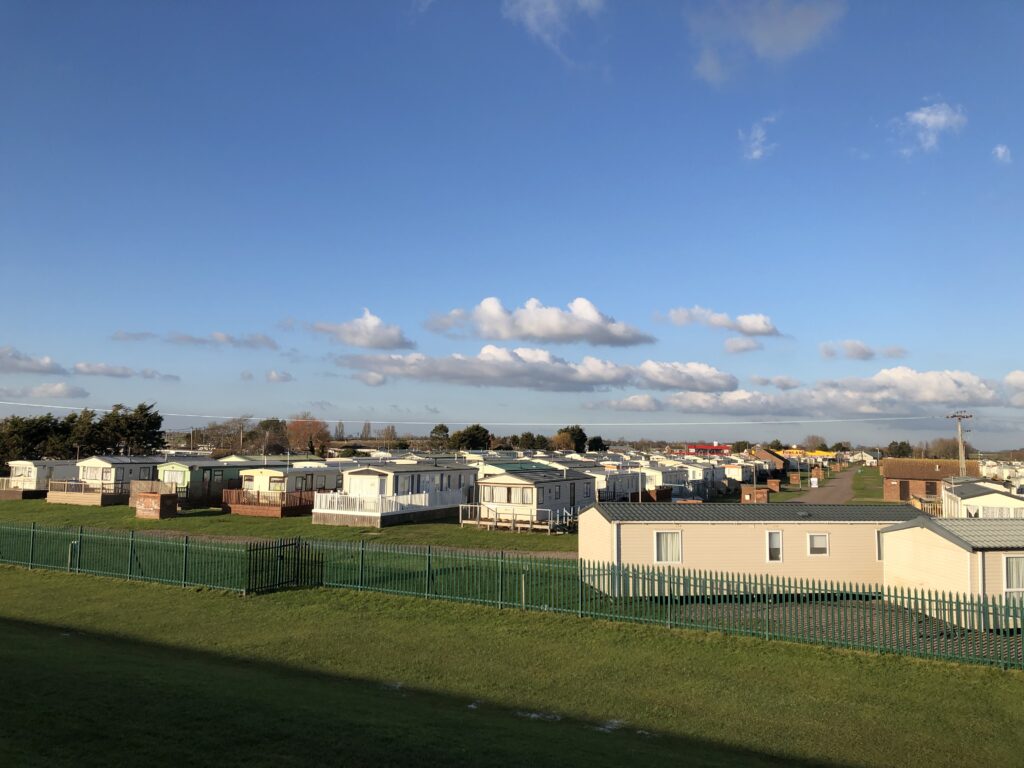 When I visited my parents last Christmas I rummaged around the attic in order to see whether any picture taken on the school trip have been preserved. Sadly I did not find anything – it might well be that I had not taken a camera at all – and so I only have my vague memories to compare the current impression with. While the caravan park itself looks pretty much like any other, I do quite vividly recall the dark stone groynes from solitary walks along the sea wall.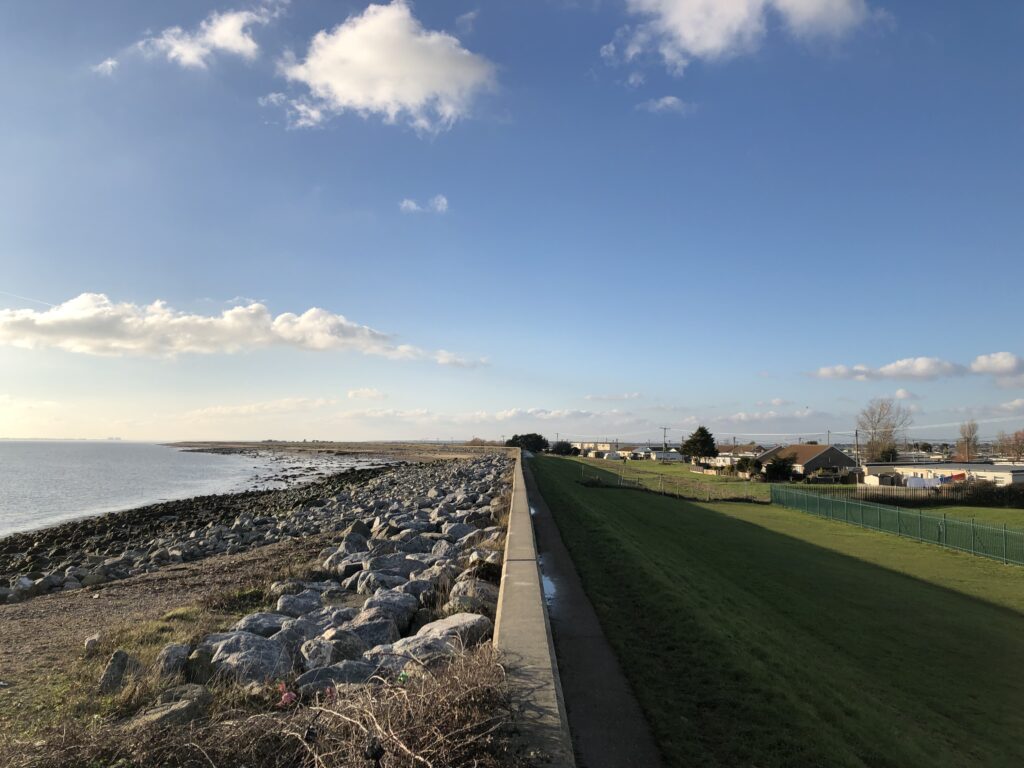 Beyond the caravans the salt marshes begin, and my visit to the past ends under a wide and open sky.