Writing about the Thames Estuary is not easy, because so much has been said already: The Thames Estuary Library, for instance, lists no less than 21 topical books (one very good example of the genre is Rachel Lichtenstein's Estuary), and that isn't even exhaustive, since arguably Pete May's The Joy of Essex also qualifies. Recently I was also browsing in a second-hand bookshop with a well-stocked local history section, and found yet another example from 1981, which appears to be largely forgotten: Estuary: Land and Water in the Lower Thames Basin by A. K. Astbury, which I immediately bought because it's preface is amazingly grumpy: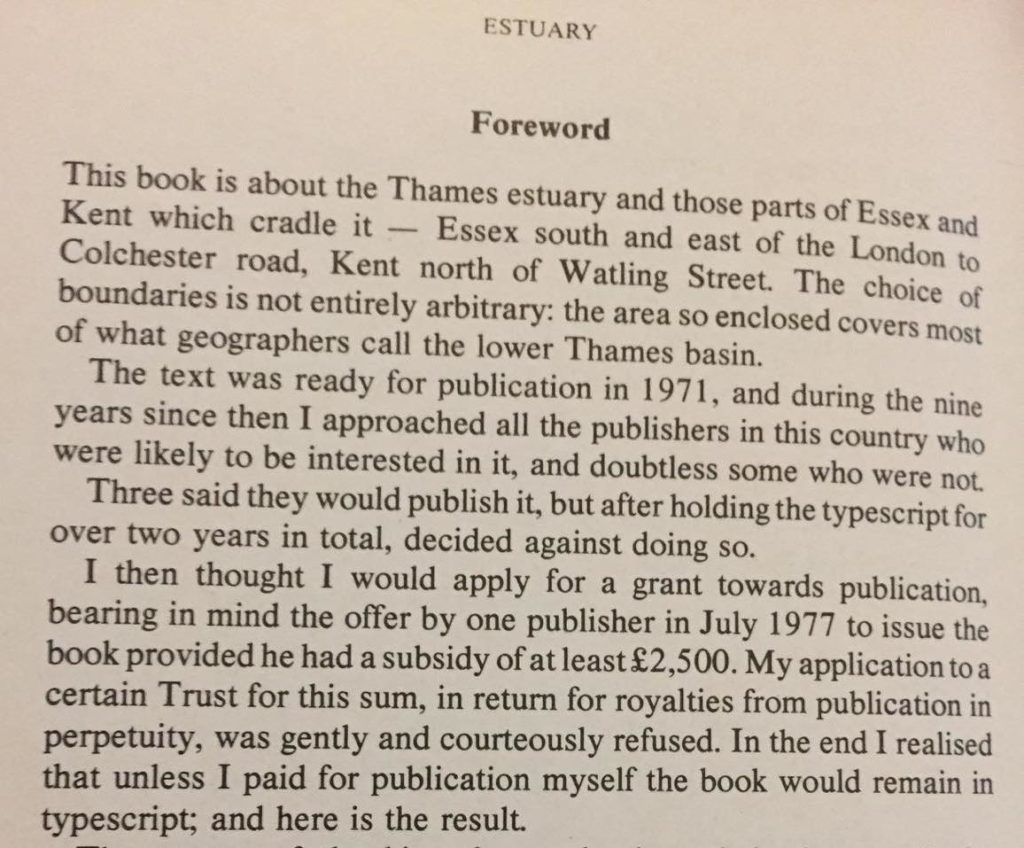 In the face of this vast amount of existing literature, all I can offer here are some notes on the Essex side of the Estuary, which are largely based on a walk along parts of the Thames Estuary Path this summer. While some stretches of this path are probably more to the liking of enthusiasts, the four miles from Leigh-on-Sea to Benfleet should be able to please everyone, as they are beautiful in a traditional sense, and include the ruins of castle on the way: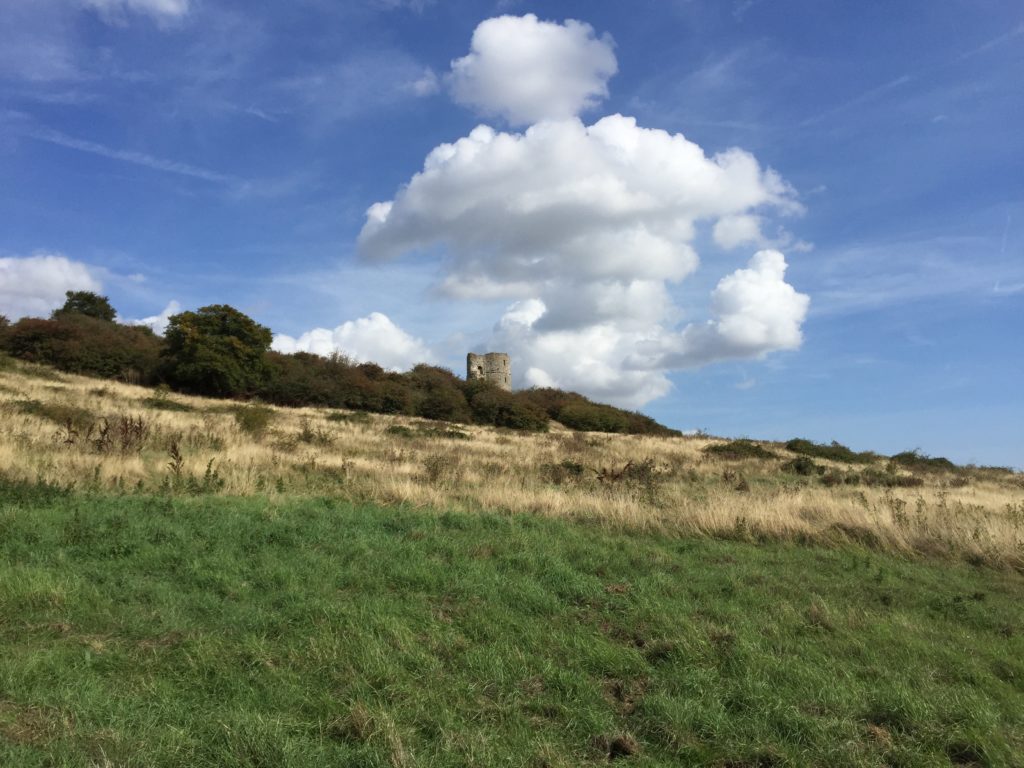 Train fans can be satisfied as well, since the footpath runs parallel to the c2c-line to Shoeburyness, and the more industrial parts of Essex are visible in the distance: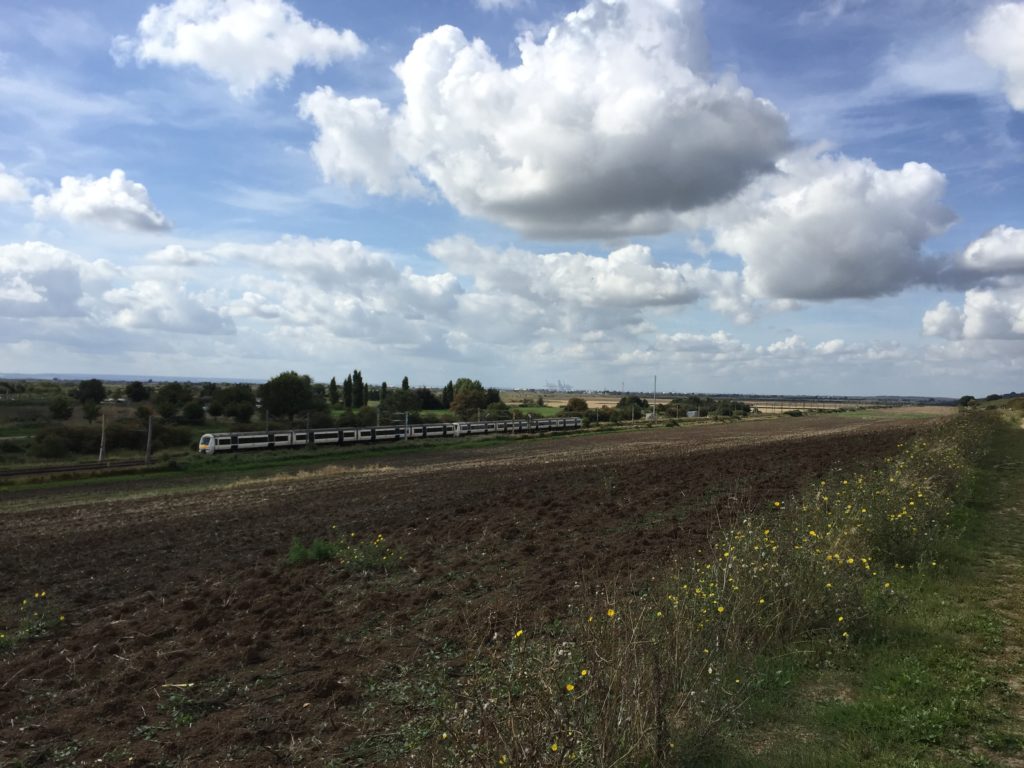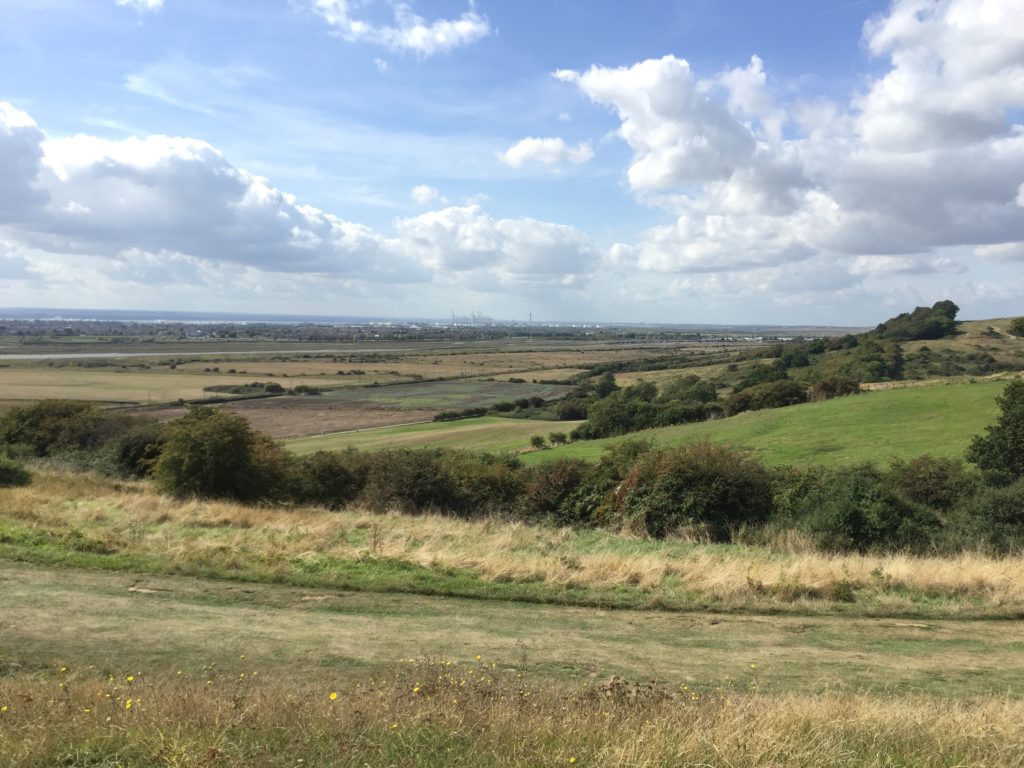 Soon I arrived in Benfleet, the gateway to Canvey Island. For some reason my feeling was that Canvey is an exciting and mysterious place, although at the time, apart from having heard the name and looking it up on a map before, I did not know anything in particular about this Estuary island. Unfortunately my plans for the day did not allow me tome for an actual visit and I continued to walk towards Pitsea, but later I did some research, and was not disappointed. I came across the film Oil City Confidential, which tells the story of the band Dr. Feelgood, whose founding members were from Canvey Island. The film contains many great shots of the area and also tells the history of Canvey, which includes event such as the flood of 1953. I can highly recommend checking it out, and hope to explore Canvey Island in real life soon.
During this research I also looked into other Estuary islands, and learned some surprising facts about the Isle of Sheppey on the Kent side. In 1974 the writer Uwe Johnson, who was originally from East Germany but eventually fled to the West, moved – to the surprise of his friends, apparently – to Sheerness-on-Sea, in order to overcome writer's block while working on his novel Jahrestage. He lived there until his death in 1984, and wrote a couple of essays on the people and their lives on Sheppey. The most memorable one is about the SS Richard Montgomery, an American war ship which sank near Sheerness in 1944 while carrying 1,400 tons of explosives, which – until this day! – are lying on the bottom of the Thames, since recovering the explosives was judged to be more dangerous than leaving them there.
A couple of years ago the BBC produced a radio feature about Johnson in Sheerness which includes translated excerpts from these writings, otherwise they are available in German. One reason I enjoyed learning about this story is that I always like to hear about Germans with an unexpected connection to this part of England, even if, to be fair, Kent is not exactly East Anglia anymore. (The absolute hero in this field is of course W. G. Sebald, about whom I might write more in the future.) As it happens I have never read any of Johnson's novels, but will probably do so in the new year.
Back to Essex: Remnants of the second world war can be found here too, such as these bunkers (between East Tilbury and Tilbury) and a number of concrete barges (near Rainham):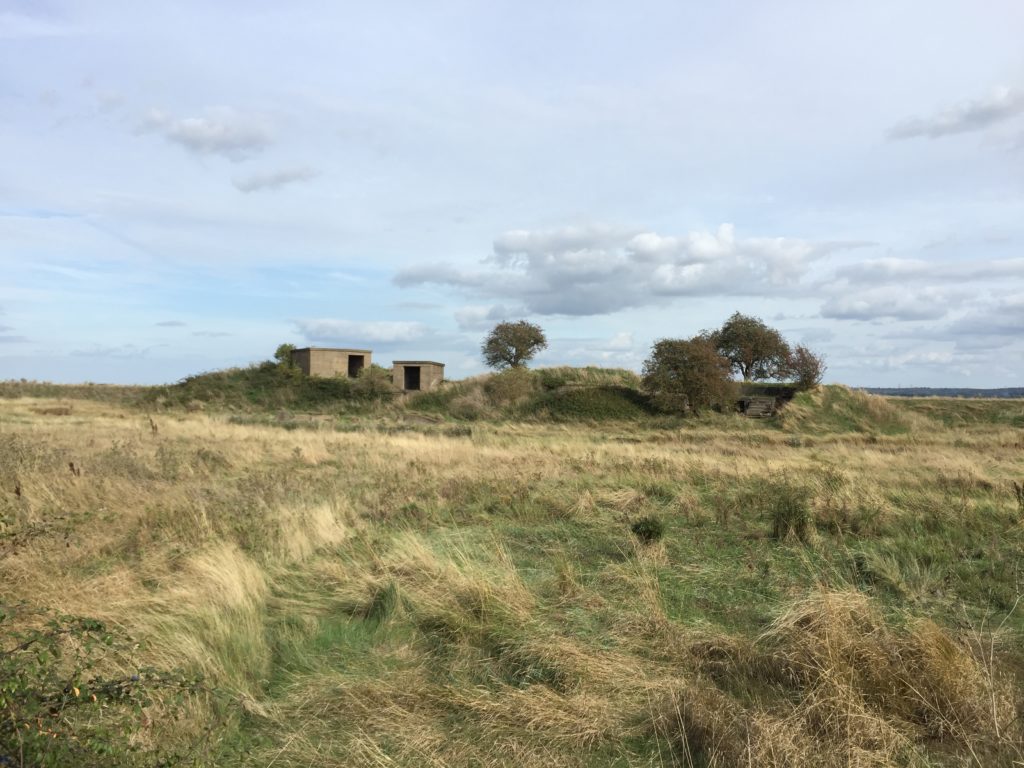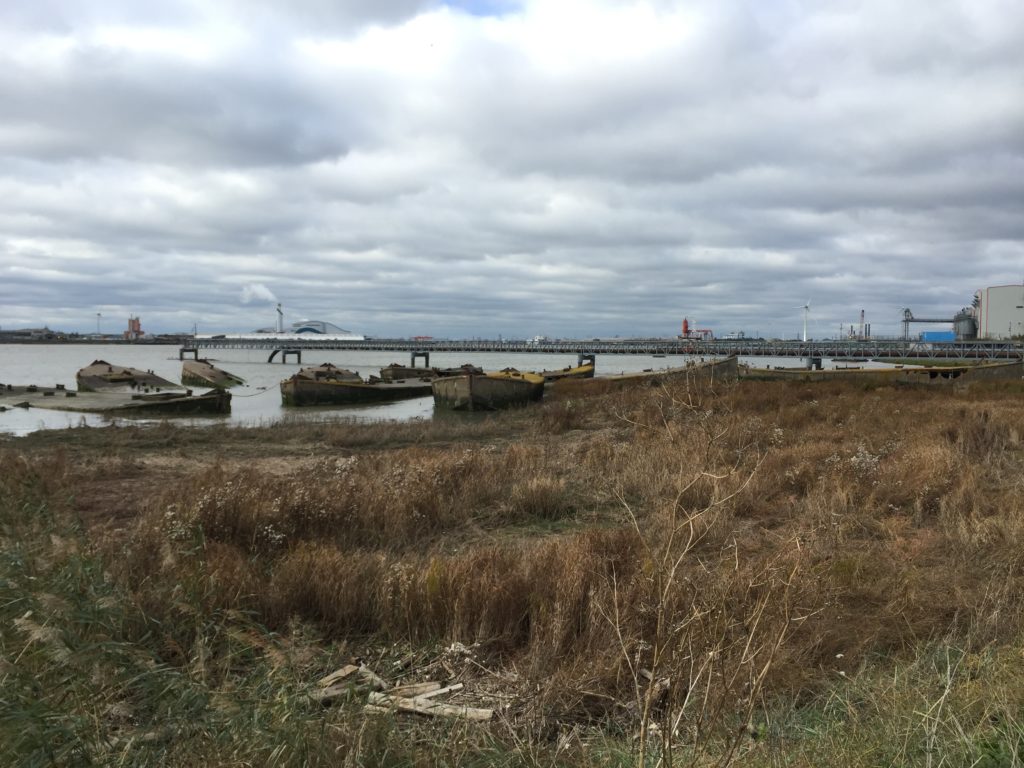 As I approached Tilbury, the atmosphere changed. Industrial smells became noticeable, and a strange humming noise could be heard, the source of which turned out to be this gigantic ship, which, so I learn later, does deep offshore drilling: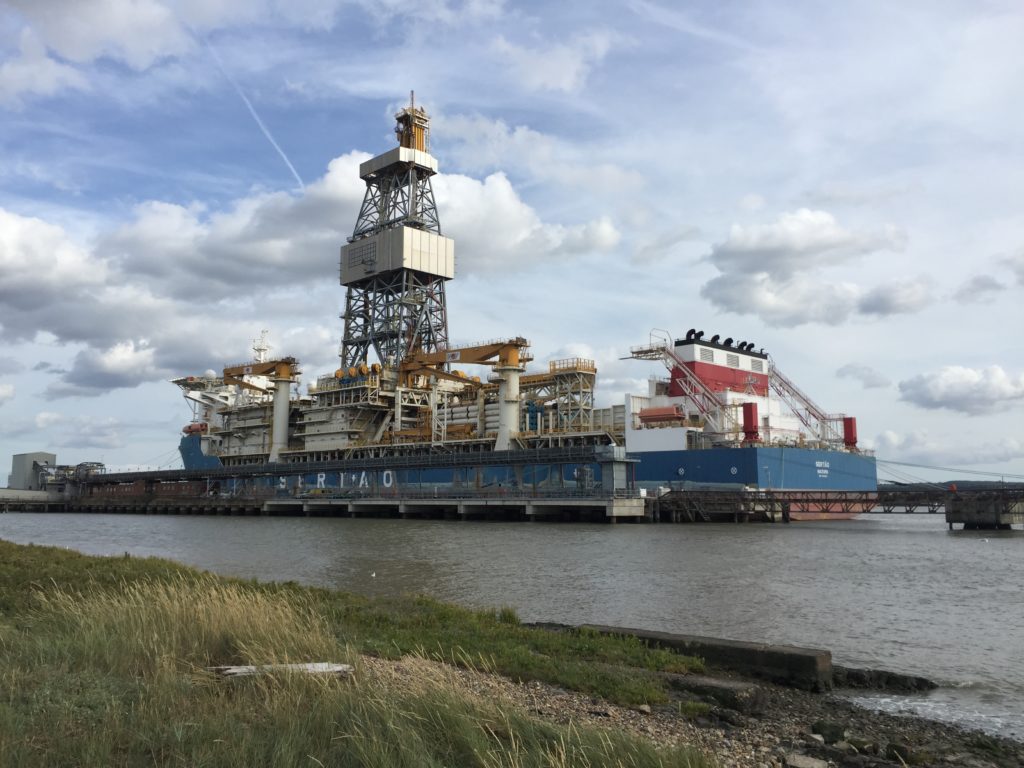 I also paid Tilbury Fort a visit, but couldn't enjoy as much as I would have liked since by that I was very hungry, and unfortunately there is no café. After quite a long day of walking I was then pleased to be back on a train, which brought me to London Fenchurch Street – for the first time ever, since in the morning I had used one of the (few) c2c trains that start at Liverpool Street. Now I had to walk to the latter station to get back to Cambridge, which meant navigating the City of London. I found this very difficult, since the street layout is confusing, Google Maps mysteriously didn't work properly, and walking in the shadows of various skyscrapers while all the shops are deserted because of to the weekend make for a strange and creepy atmosphere. (So far I have yet to see the City in action on a weekday). I eventually made it, and happily boarded the train back home.