In February, Greater Anglia announced the following special offer: For a limited time, they would sell day return tickets on their network for weekday off-peak trains at a rate of £5-£15. This was an opportunity for relatively cheap travel I didn't want to miss, and since Norfolk and Suffolk are already covered by the Anglia Plus ticket, the obvious thing to do was going to Essex. The most exciting destination on the Greater Anglia network seemed to be Southend-on-Sea, and so I booked a day trip there in late March.
The trip started with taking the train from Cambridge to London Liverpool street, which I don't usually use. I think the route is much more scenic than that to King's Cross though, since it runs through the Lea Valley, and as you approach London you get a great view of the skyline of the City.
Liverpool Street is the third busiest station in the UK, but during the weekend and at off-peak times it always strikes me as being surprisingly quiet. I did have the doubtful pleasure of experiencing the rush hour there though, when at the end of our UK tour C. and I caught the train to Harwich there some years ago. Although most commuters had left the train by the time it passed Colchester and we thus were able to sit down, an unpleasant surprise expected us at Harwich International: The evening ferry we had planned to take was fully booked, and so so we needed to spent the night in the town of Harwich somehow.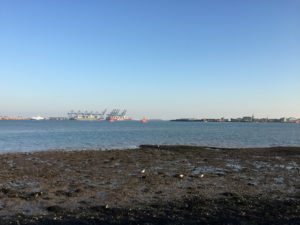 Luckily we found a pub that rented out rooms with very comfortable beds; sleeping was difficult though since the pub below us was very lively. This unplanned stay in Harwich is also memorable for being the occasion where I had the soggiest chips of my life (so far) at a local chippy!
Coming back to the less remote past, I changed to the train to Southend Victoria, one of the two stations in central Southend. On the (very pleasant) way there we stopped in Billericay, of which I had never heard before, but which for some reason made me feel like knowing more about the place. In a strange way this desire was satisfied a couple of weeks later, when I was looking for a new TV series to watch, and friends recommended Gavin & Stacey  – not only very entertaining, but about a family from Billericay (although the scenes supposedly taking place there were actually filmed in Cardiff).
Having arrived in Southend, I made my way to the most famous local attraction: the largest pleasure pier in the world, as seen in the title image. It is so long it even has its own train, which is named after Sir John Betjemen: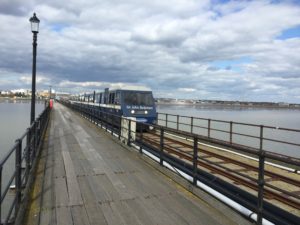 The train was just about to leave as I arrived at the pier, so taking the ride was both convenient and enjoyable. At the end of the line I could then enjoy the Tabes Estuary in all its glory: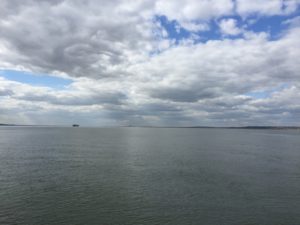 I walked the 1.3 miles of the pier and sauntered along the sea front. Southend offers many places of amusement, such as the Kursaal: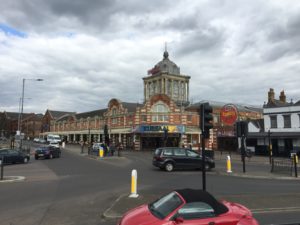 As already mentioned in the post about Great Yarmouth  I am somewhat of an arcade enthusiast, so there was plenty for me to see. As usual I played the penny pushers, but also one of the crane games caught my attention since it featured cube-shaped stuffed animals: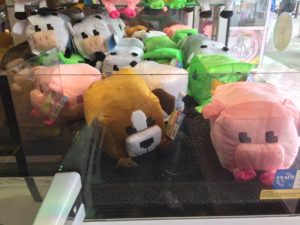 I tried my luck, and managed two win not one but two of the cube-cows, since they were stuck together!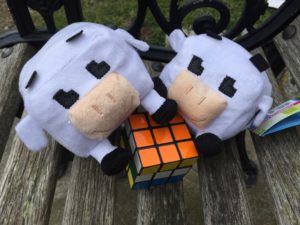 Overall I don't have much experience with British crane games though, so it was a case of beginner's luck. A few years ago I played them quite a lot on a holiday to Japan, and there are certain strategies you can apply, but I am not sure whether they would work here.
After this success I walked along the seafront some more in the direction of Westcliff-on-Sea. I have seen Starter for 10, a film whose protagonist is from Westcliff, and I distinctly remembered a scene in which he and his friends are hanging out on a concrete platform at the seafront, so I wanted to see whether I could spot this location. I was unable to find anything fitting this description though, and eventually gave up. Later I learned from the Wikipedia article that these scenes were actually shot in Jaywick (near Clacton).
By that time I was very hungry, and thought fish and chips would be an appropriate dinner. I didn't want to go to some random chippy though (presumably the soggy chips from Harwich were unconsciously guiding me here), and luckily came across this very helpful list of the 10 best fish and chips-shops in Southend created by c2c – the railway company which runs the trains to Southend Central instead of Southend Victoria.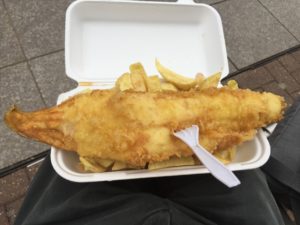 I was very happy with the one I chose, so the day ended well.