As Lowestoft is Britain's easternmost place, it is where the sun first hits the island, and luckily the second day of my coastal walk indeed started out sunny.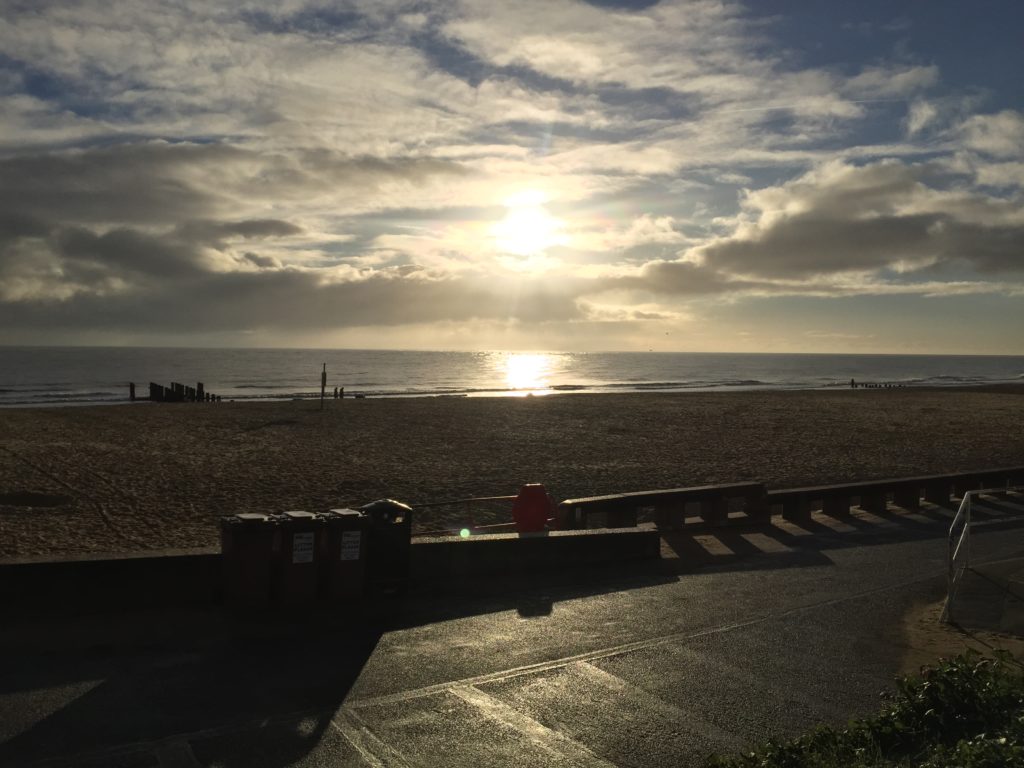 After a substantial breakfast at the B&B where I had stayed the night I started to head south. In principle the stretch between Lowestoft and Southwold is part of the Suffolk Coast Path, however the official route is for the most part not actually along the coast, but has been diverted inland due to coastal erosion. It is however possible to walk along the beach, provided that the tide is low, and this is what I was planning to do.
Soon after starting the walk the sun was joined by scattered showers, which were fortunately not too annoying, and the combination gave rise to nice rainbows while I left Lowestoft behind.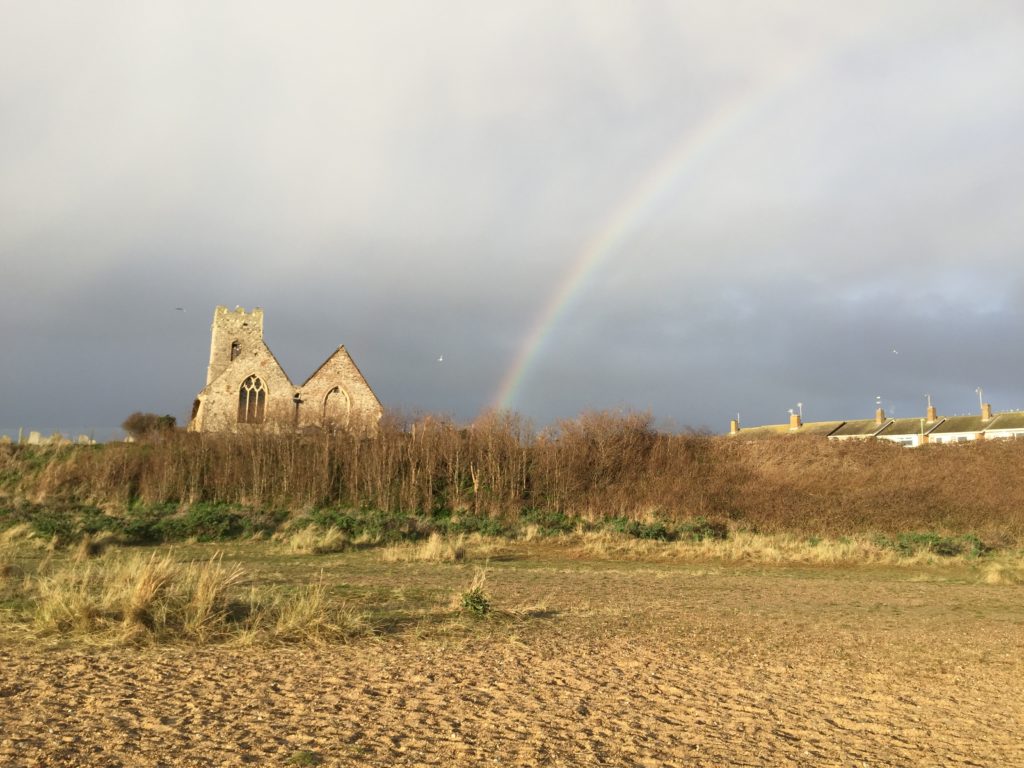 This walk is clearly more popular than the one from Yarmouth, as I came across many other walkers on the way. By way of a greeting, a man who was walking his dogs pointed out that there had been lot of erosion recently, and indeed I saw even more debris than the day before, including a whole bunker: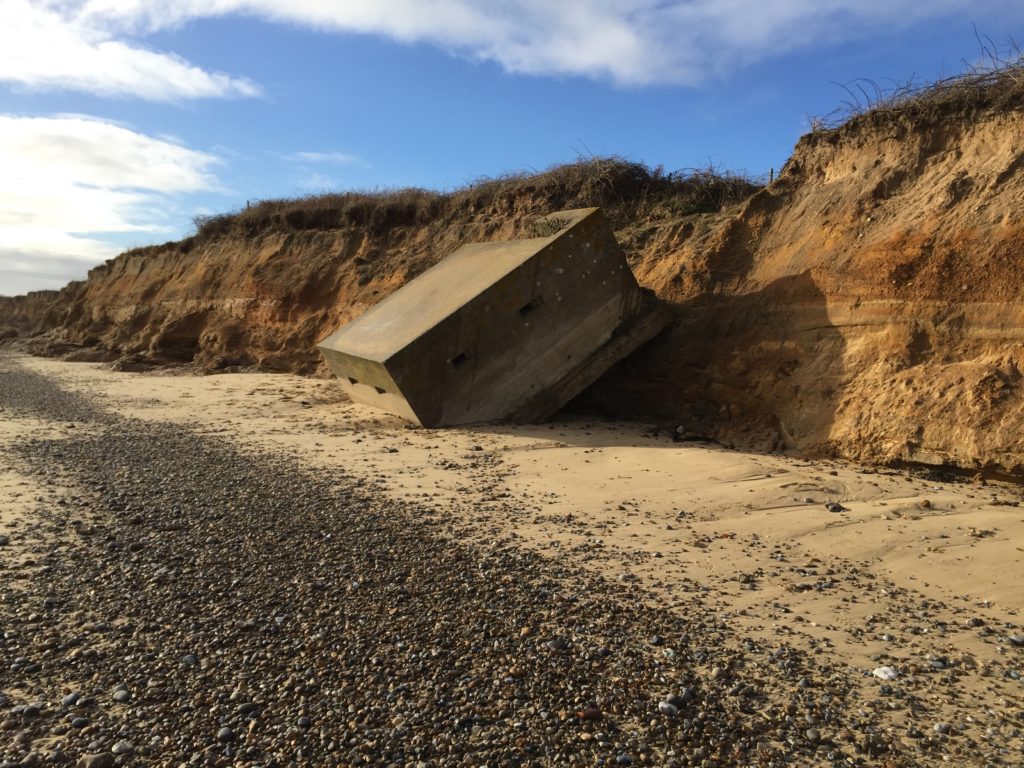 After walking on the beach for a while I spotted a path up the cliffs, and went up in the hope that I would be able to walk along there for a change and get a good view. There was indeed a path which led past some fields, but unfortunately it suddenly ended in a steep muddy decline towards the beach: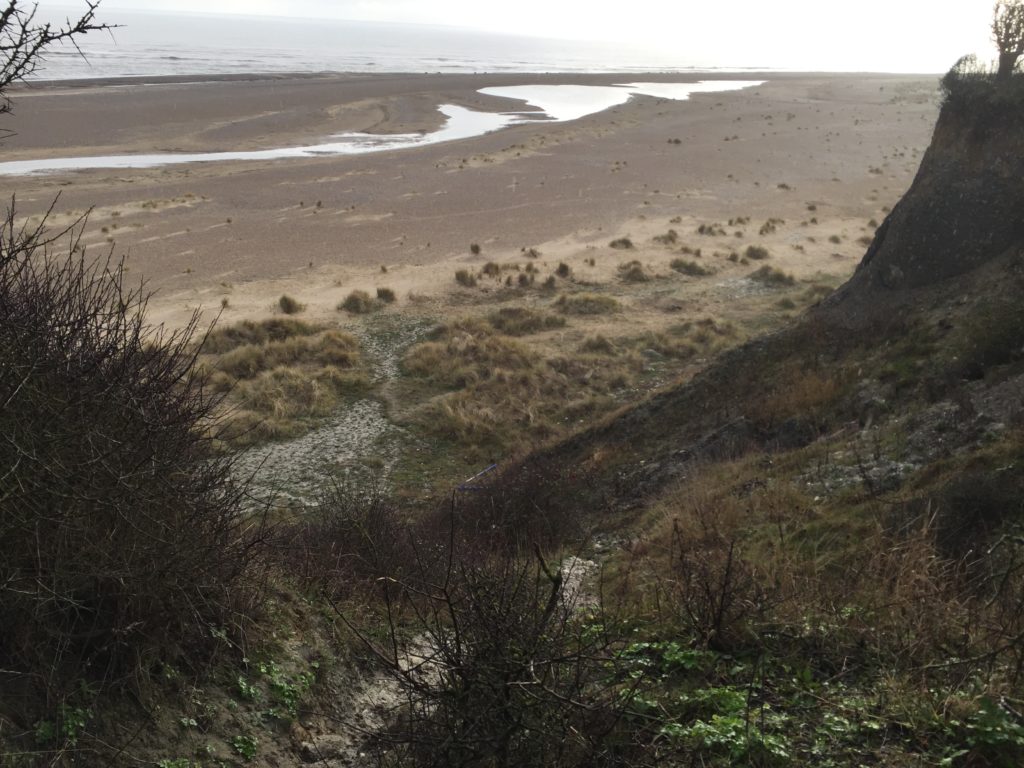 As I strongly dislike doubling back I cautiously tried to climb down, but quickly gave up this attempt as the ground was so slippery – it had started to rain more by then – that I would almost certainly have ended up falling into the mud. Grudgingly I therefore walked back to where I had come from and continued the journey along the beach.
Not much later I reached Kessingland, which is roughly the midpoint of the walk and whose beach is very wide and features stones and heathland: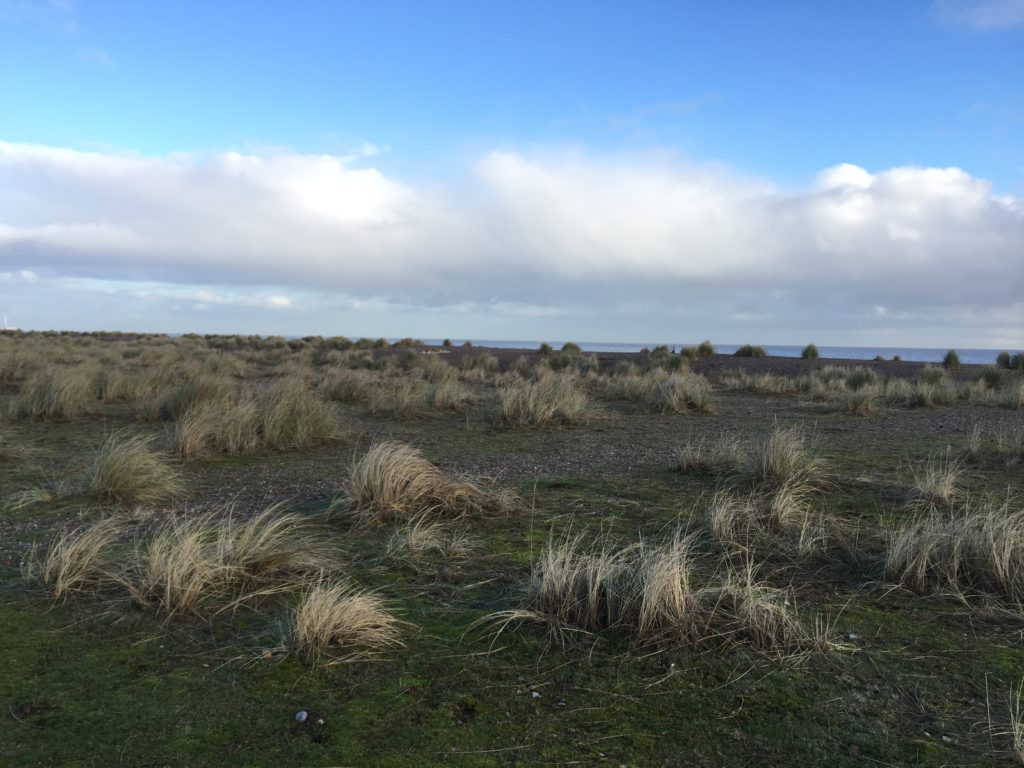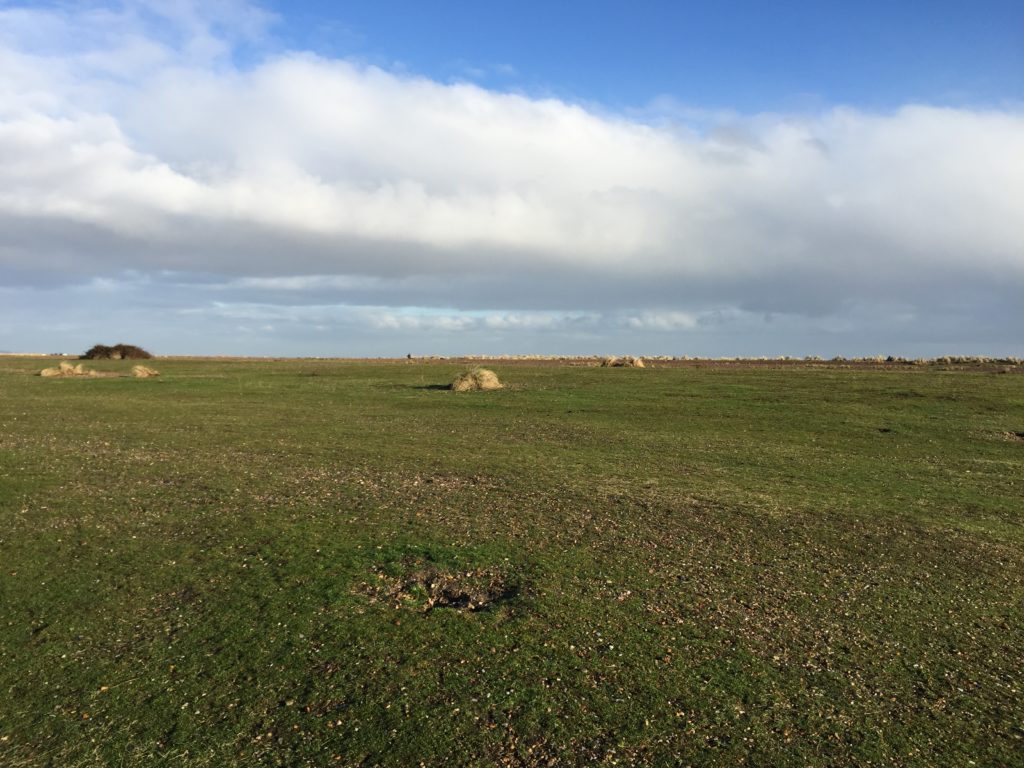 This was one of the most enjoyable parts of the walk, since the unusual landscape made the whole area feel remote and mysterious. I recently watched an episode of The Avengers in which strange events take place on Holkham Beach in Norfolk, and Kessingland Beach would certainly also be suitable to create such an atmosphere.
Eventually I reached the narrow stretch of the beach which is only passable at low tide, and sometimes not even then, as there are a couple of lakes (called broads) inland that are very close to the beach and apparently sometimes breach when there is a lot of rain. For me everything went smoothly however, and I could soon see Southwold in the distance.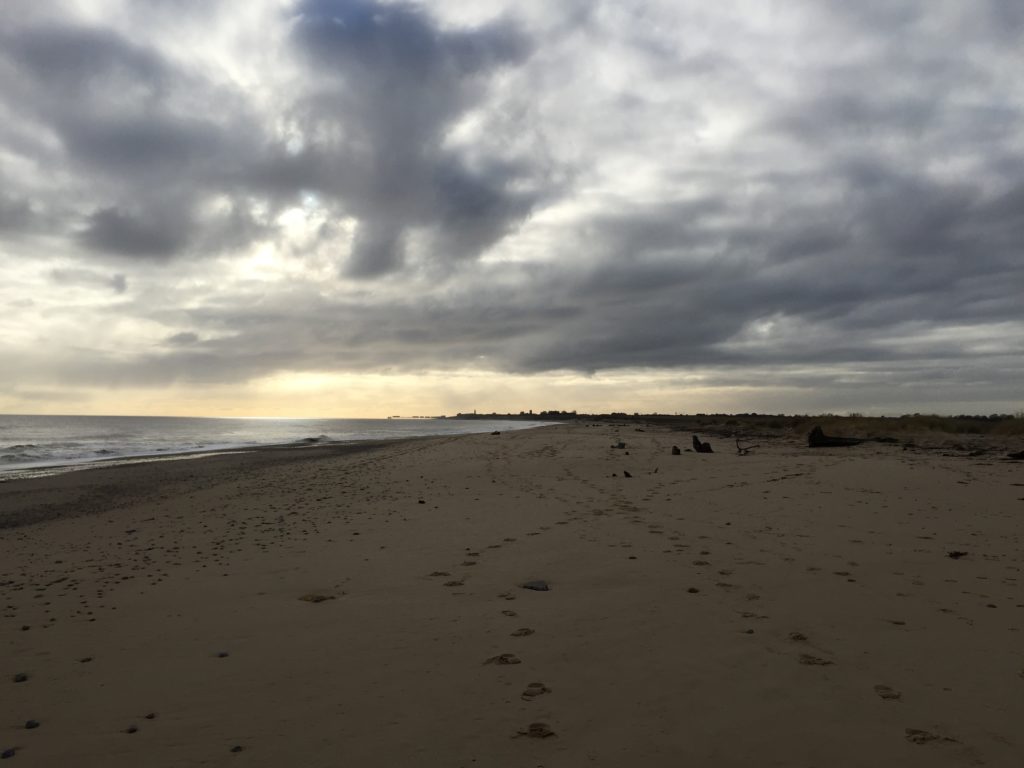 I continued the walk along the beach without attempting to go up the cliffs until I had nearly reached Southwold and could go no further, as the way was blocked by concrete structures: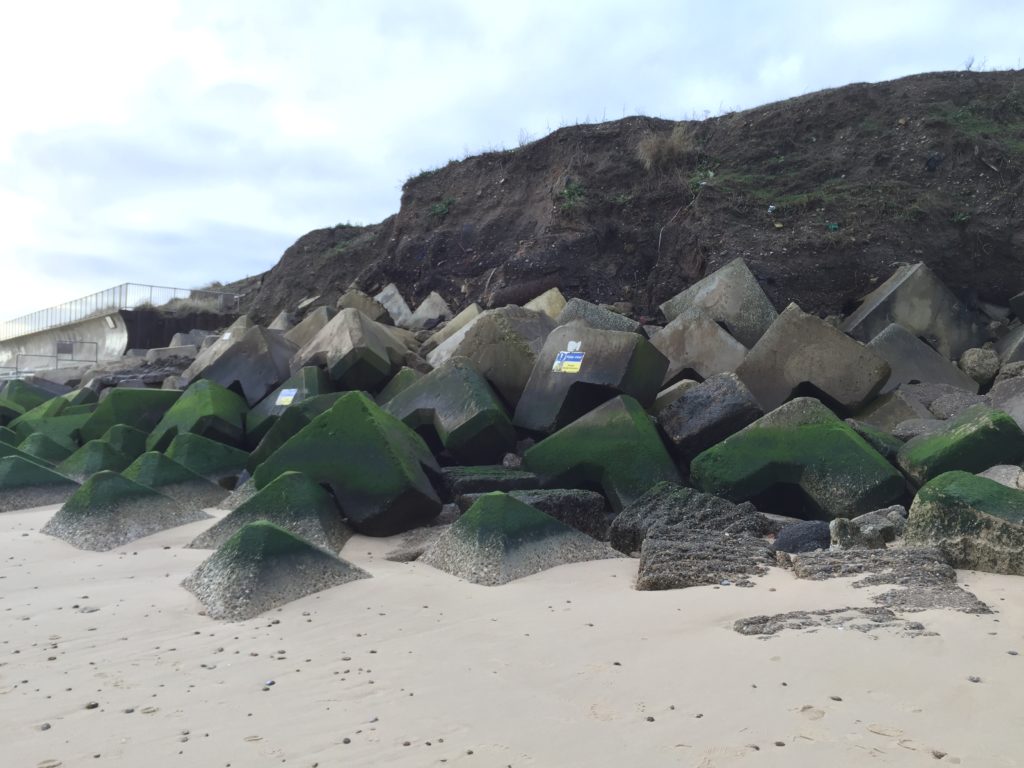 As I did not want to double back again I decided to climb over the concrete blocks to the concrete promenade in the hope that there would be a way up somewhere further down. This was a questionable idea, as the promenade was so slippery that I was genuinely afraid to fall at any moment even though walking with extreme care. I did eventually make it to the stairs up to the cliff without any accident, but would not recommend this experiment – the warning signs on the other hand are certainly appropriate.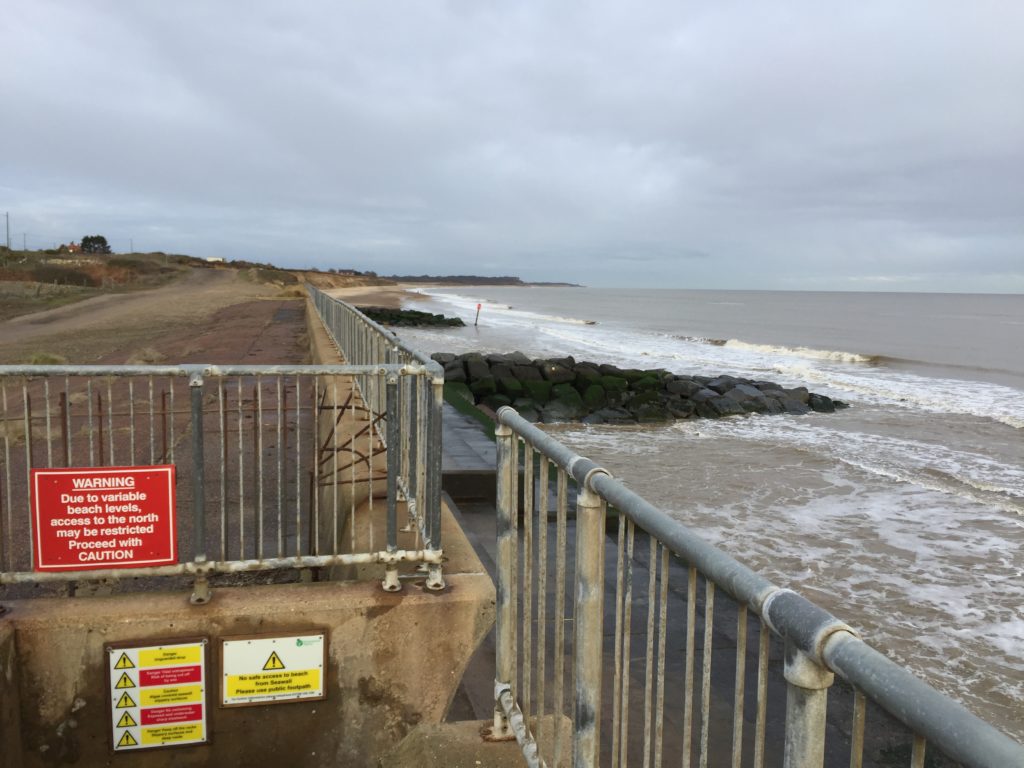 I thus had made it to Southwold, which, as expected, and as can be seen in the header image, is very quaint and pretty. (Michael Palin's entertaining East of Ipswich was shot here.) It is also home to the Adnams brewery whose beers I like (the second brewery featured on this blog), and I visited their brewery store. Among other things they sold Adnams bottle openers and I considered buying one but for some reasons didn't – a bad decision I have regretted many times since.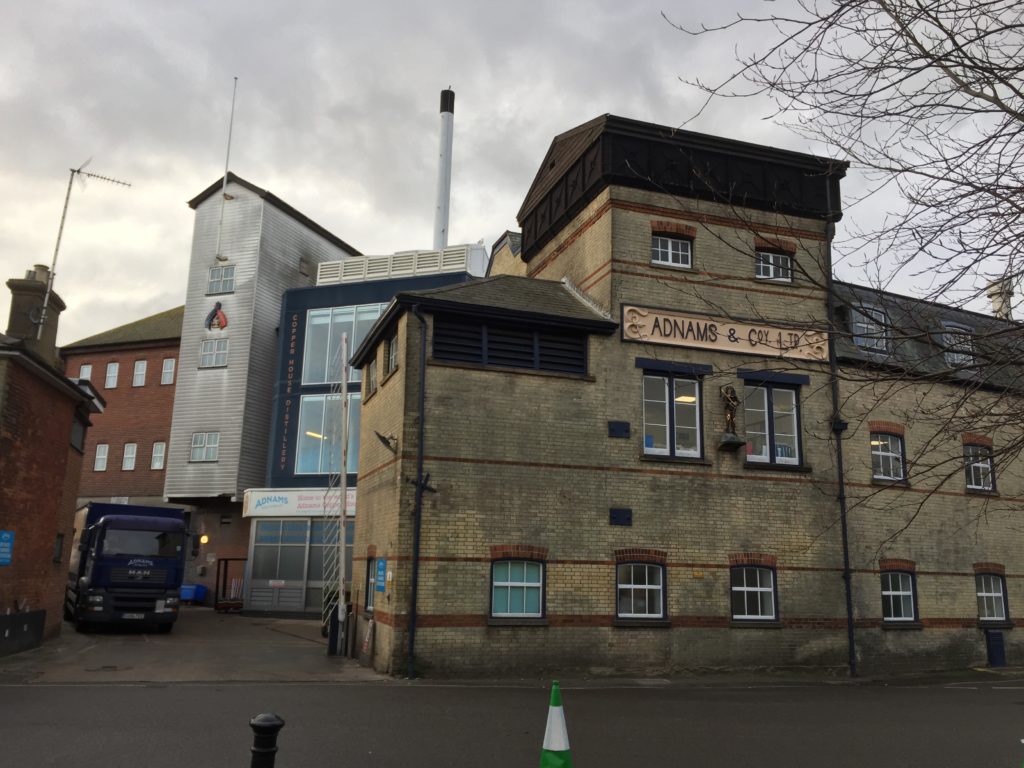 After strolling through Southwold, there was the question of what to do next. The original plan had been to stay another night in Lowestoft, and possibly to do some more light walking the next day. In making this plan I had, however, vastly overestimated how long it would take me to finish the walk, as I had imagined the sun to set when arriving in Southwold, but in fact it was only 2:30pm when had done all I wanted to do for the day. After some back and forth I therefore decided to cancel the third day, and go back to Cambridge instead, which was easily possible.
Hopefully this series on the Suffolk coast will continue: The next stretch to Aldeburgh is longer than the way from Lowestoft, but since my walking pace is apparently quite fast this shouldn't be a problem. Accommodation is the more serious issue, since there are few affordable options in that part of the world. I recently found out that there are a couple of buses that make it in principle possible to get from Cambridge to Southwold, walk to Aldeburgh and then get back to Cambridge again in just one day – provided one starts the journey at an ungodly early hour. A third part might thus be forthcoming in the not too distant future.