I recently bought a bicycle. As such this is quite unremarkable, since nearly everyone in Cambridge has a bike. In my own case it was unusual though, since for months I had been saying that I don't need or want a bike, yet a few weeks ago I suddenly woke up with the urge to buy one myself. Some days later I actually acted on this new wish, which doesn't usually happen either. I proceeded pretty much like the character played by Robert Webb in this sketch: I went to a bike shop, named a price range, and just bought the first bike I was shown. It seems to be working well, the wheels, gears and the chain all do their job.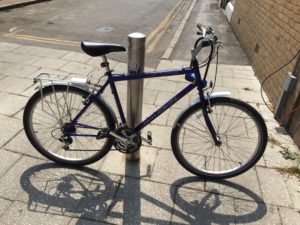 Having got the bike I naturally wanted to go on a proper cycling trip. I was unsure, however, how long a long cycling trip should be, so I asked C. for advice. She said that it should be at least 30-40 kilometres, and I planned accordingly. I then decided to take the National Cycle Route 51 from Cambridge to Bury St Edmunds, via Newmarket. With somewhat more than 30 miles this was the required length, and I was also keen to visit both Newmarket and Bury St Edmunds, which I hadn't been to before. A particularly interesting attraction of Bury is the Pillar of Salt, Britain's first internally illuminated road sign, which can be seen in the header image. (Unfortunately, I only saw it during the day, when there was no illumination.)
The cycling route is straightforward to follow, and until Newmarket the ride was pretty easy since the terrain is very flat. There were plenty of small quaint villages on the way, with names such as Swaffham Bulbeck and Swaffham Prior (I really like it when villages come in pairs). In the latter I saw a strange building which struck me as quite mysterious and creepy. It reminded me of the black tower in this short film, but luckily it did not haunt me in the end.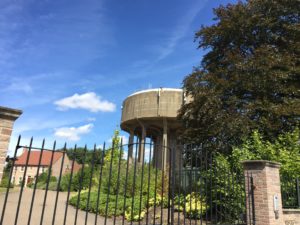 Eventually I reached Newmarket, the town of horses. It actually smells of horses, apart from Exning Road, where when I cycled down into the town everybody seemed to use their Saturday to do laundry. I parked my bike in the centre and walked around a bit, with the aim of eventually eating some lunch. I wanted nothing more than a sandwich, but it was surprisingly hard to find a standard supermarket in the town centre – there was a big Marks & Spencer, which however was closing down for good that very day, and so all the sandwiches were already gone!
In the end I found food, walked around the town some more (not to where the racecourses are though, so horses were only smelled but not seen), and then decided to continue to Bury. The terrain is much hillier from here on, starting with the Long Hill from which one has a good view of Newmarket.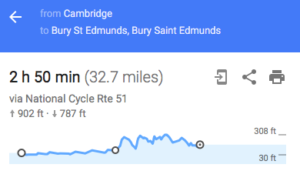 I was not actually able to cycle up most of these hills, but had to get off and push the bike, which is arguably less impressive than cycling. Nevertheless, cycling down the other side of the respective hills is enjoyable. I took a short break in the village Moulton, which has a very nice stone bridge: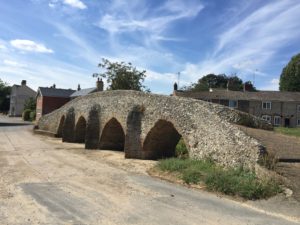 In general I found the Suffolk countryside very scenic, I should have taken more pictures but unfortunately didn't. Finally I reached Bury St Edmunds, which smells of beer, due to the presence of the Greene King brewery. After visiting the aforementioned illuminated road sign and the nearby Abbey Ruins I had a look at the brewery. Unsurprisingly, there is a Greene King pub immediately opposite, which I would have expected to be just called Greene King (surely there must be one where Greene King is not merely the subtitle?).  In fact, however, the name of the Greene King pub closest to the Greene King brewery is Dog and Partridge: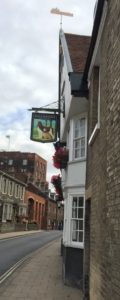 Overall, I'd say that Bury St Edmunds is well worth visiting, and probably more interesting than Newmarket unless one is into horse racing. I was very satisfied with my first proper cycling trip, and, quite exhausted, took the train back to Cambridge.