Pennsylvania is a big state, and the hilly western part which contains Pittsburgh is quite different in character from the flatter east, with Philadelphia on the southeastern edge. Comparing these two cities is a delicate matter about which I want to remain silent. Instead I will focus on how, on two separate occasions, I managed to cross the Allegheny mountains and made it to the eastern flatlands.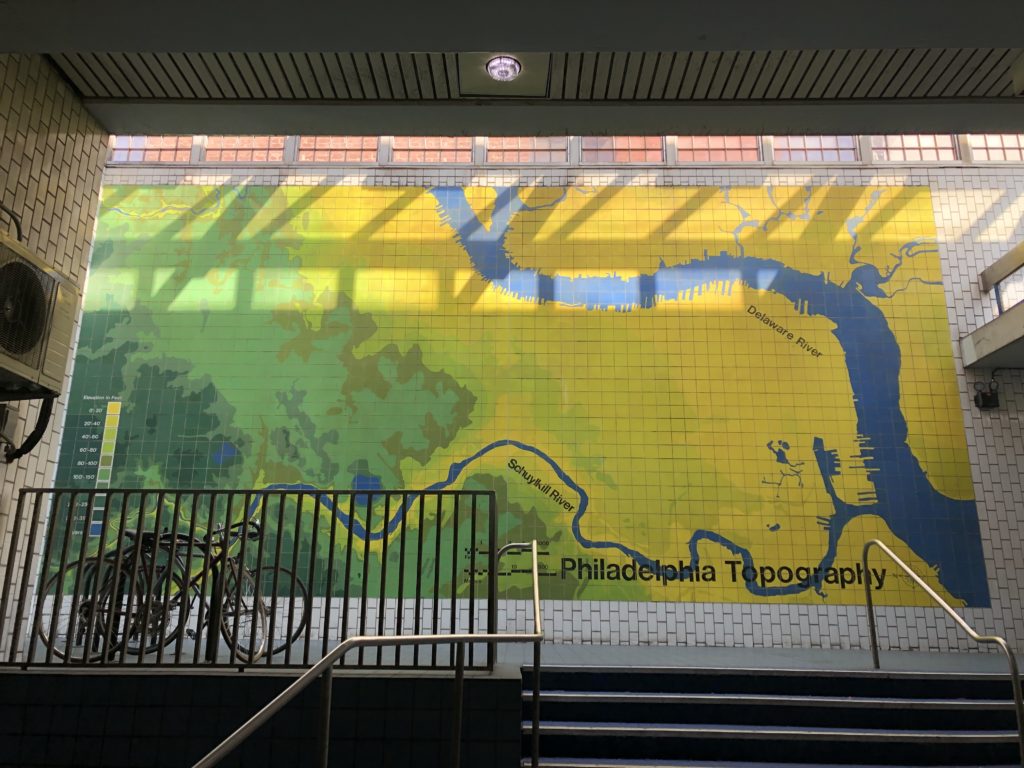 Once a day Amtrak runs a train called The Pennsylvanian all the way from Pittsburgh to New York, and of course I had to try it. On a Saturday in late February I thus left home early to catch the train at the Pittsburgh railway station, which apart from the Pennsylvanian has only two more departures each day in total (heading for Chicago and Washington D.C.). I was very lucky with the weather, since there was bright sunshine all day. Ever since watching Trading Places many years ago I have found Amtrak's silver locomotives and carriages quite stylish, and this didn't change after encountering them in real life.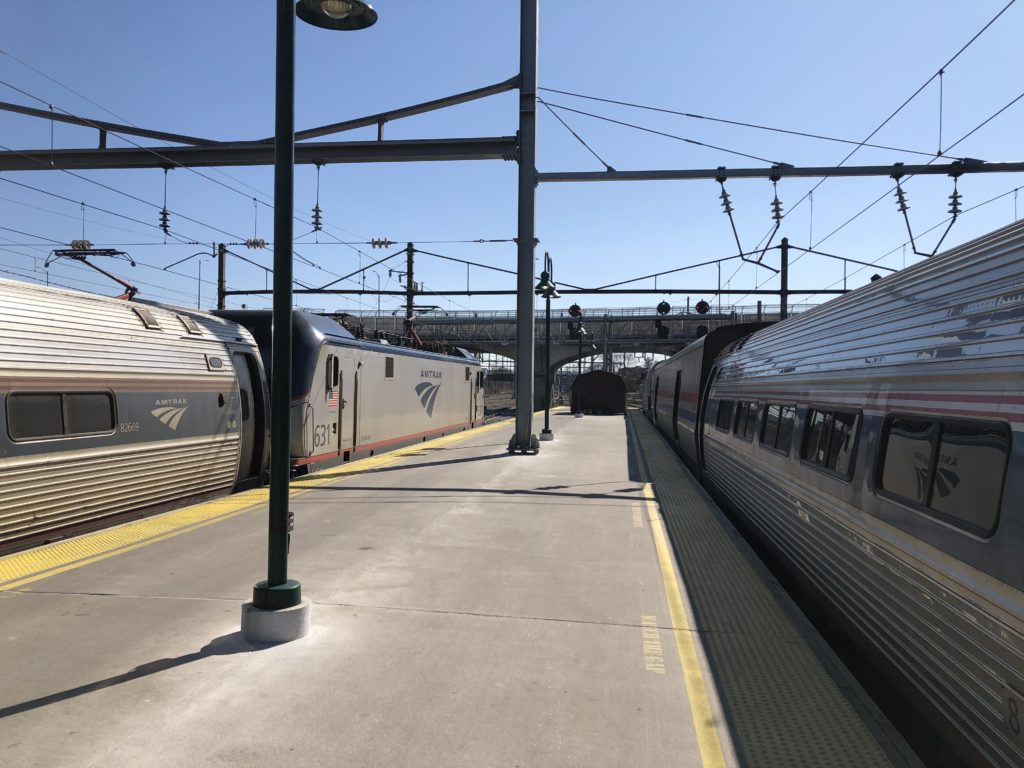 Going up the Allegheney mountains is not a trivial matter, and in order to deal with the changes in altitude there exists the so-called Horseshore Curve: a long curve in the form of a horseshoe that makes the ascent and descent less severe.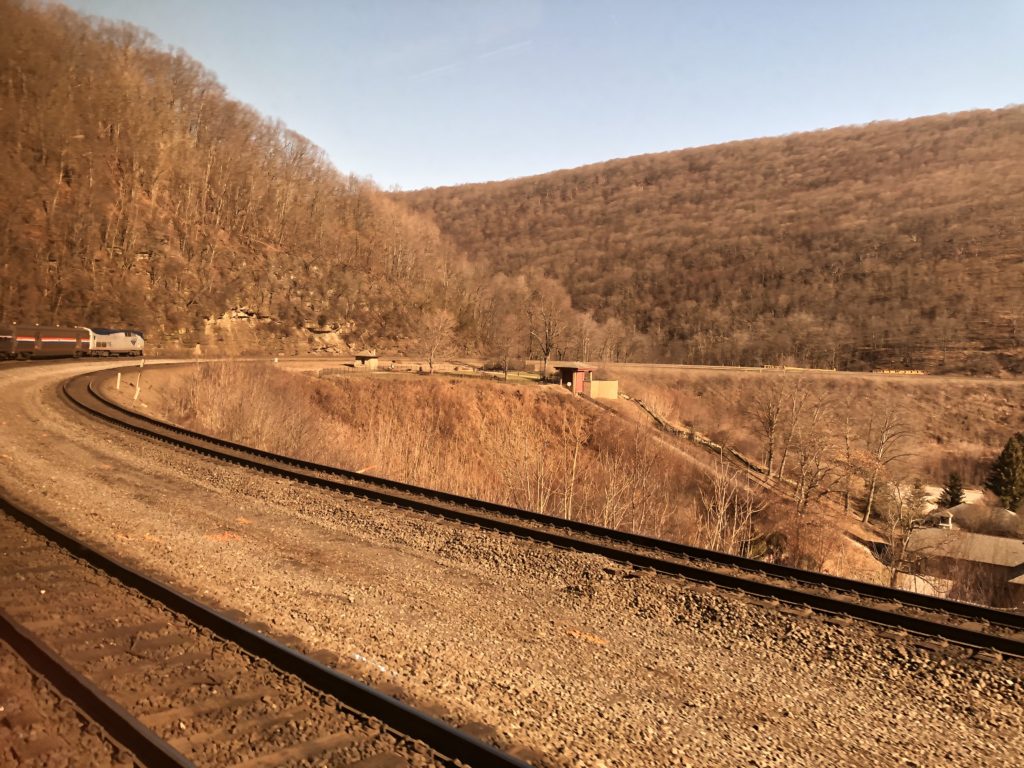 Enthusiasts who cannot get enough of the curve are in luck, for there is a 24 hour livestream on YouTube which captures all the trains that run through here.
This is how trains manage to conquer the mountains, but what about cars? They use tunnels, as I could experience on my second journey east on a Greyhound bus. Even before coming to the US I had heard many stories about Greyhound buses, not all of them positive. I had watched this video with 10 tips for beginners though, and some more of the apparently countless videos on all things Greyhound the channel provides ("10 bad things that will happen on the Greyhound bus", "10 trips for travelling alone on the Greyhound bus") – so I felt prepared. One potentially relevant piece of advice only reached me after I had already bought the tickets, however, namely that many people prefer to use Megabus.
The trip got off to a rocky start, since the bus was overbooked and I had to wait at the Pittsburgh Greyhound station for 1,5 hours until a driver from Cleveland arrived, who did an additional shift in order to get us to Philadelphia. From then on everything went smoothly though, and the journey along the Pennsylvania Turnpike was pleasant, even though not quite as scenic as the train. My favourite part was when we left the Blue Mountain Tunnel, the last of the four tunnels under the Allegheny mountains. After many miles in the valley between hills the landscape here suddenly opened up, and one can finally look into the distance over a flat landscape full of fields and meadows. One can get a sense of this experience towards the end of this video, although they unfortunately stop recording a bit too early.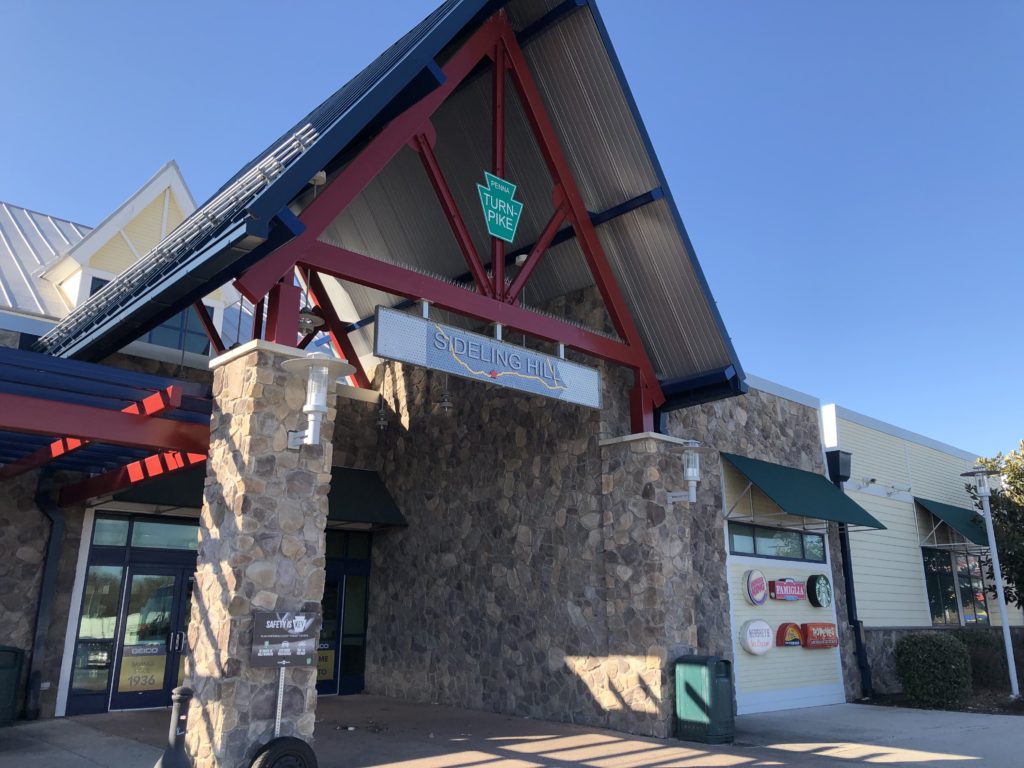 After the tunnels the bus stopped for a break at a rest stop. Ever since arriving in Pittsburgh I had been looking for Pennsylvania merchandise, and what I had in mind specifically was a t-shirt with only the shape of the state on it. At the rest stop shop I found some sweaters which at least approximated this ideal to some extent.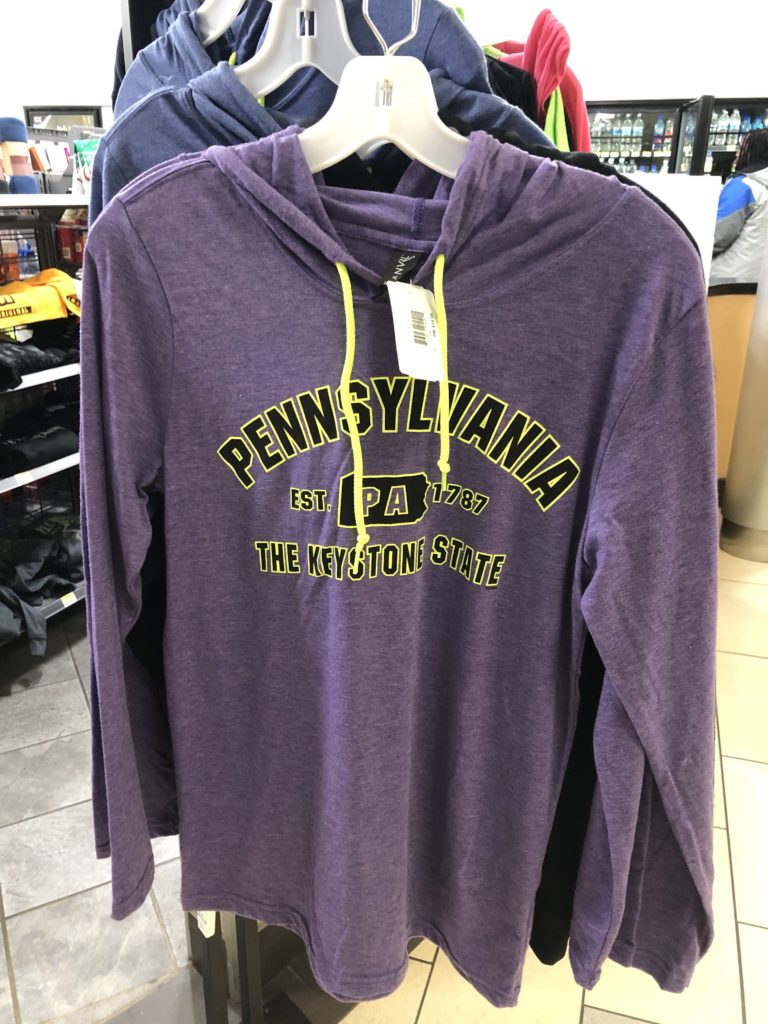 In the end I didn't buy one, and it seems that they are not the most popular product. From the fact that I looked at the sweaters someone apparently concluded that I must be an employee of the shop, and asked me where the cigarettes are (I didn't know).
One area I was particularly interested in was Lancaster County, since I imagined it to be the East Anglia of Pennsylvania: flat, rural, and quaint. I had considered to stop in Lancaster or go on a day-trip there, but this turned out to be a hassle to organise, so instead I just stared intently out the window of the train as we passed through. I did like the landscape and even saw a plough drawn by a horse, which I don't remember ever encountering in England. The farms looked quite different though, with the stave silos striking me as especially American.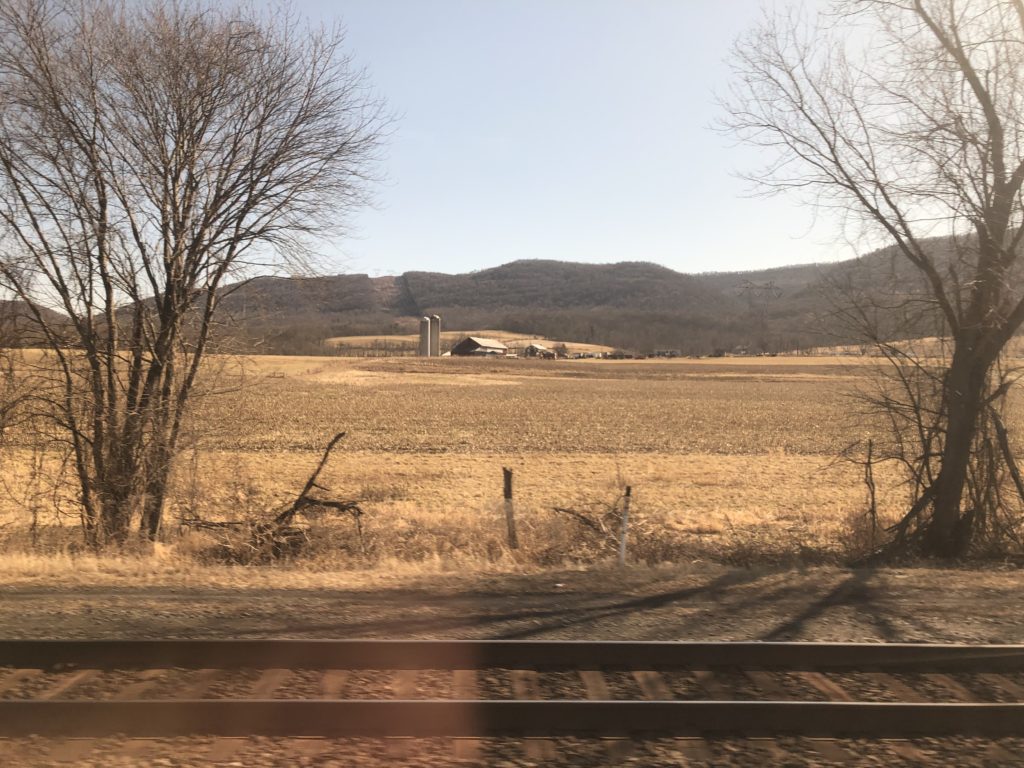 According to Appleton's travel guide the landscape to the west of Philadelphia is "apt to remind the tourist rather of the best Farming districts of England", and although that seems a bit exaggerated I am sad to not have seen more of Lancaster County, whose towns also have brilliant names such as Bird-in-Hand or Intercourse (other parts of Pennsylvania are good for place names too, compare Eighty Four and the landlocked Jersey Shore). I hope to be able to return some day, and until then be content with humming this tune while walking through rural areas elsewhere.
In the end the point of all this travelling was to arrive somewhere, and once I had made it to Philadelphia I had a good time. From a plaque I learned that when William Penn designed the city, he wanted "uniform streets with houses built in a line", and ensure that the city "will never be burnt, and always be wholesome". Unfortunately things are not quite as rosy in all parts of Philadelphia today, but the centre and the historic district are excellent for sightseeing.
On my last day in town I went for a walk along the difficult-to-pronounce Schuylkill River. There were a surprising number of similarities to a river walk in Cambridge: boat houses, rowers, and a railway bridge.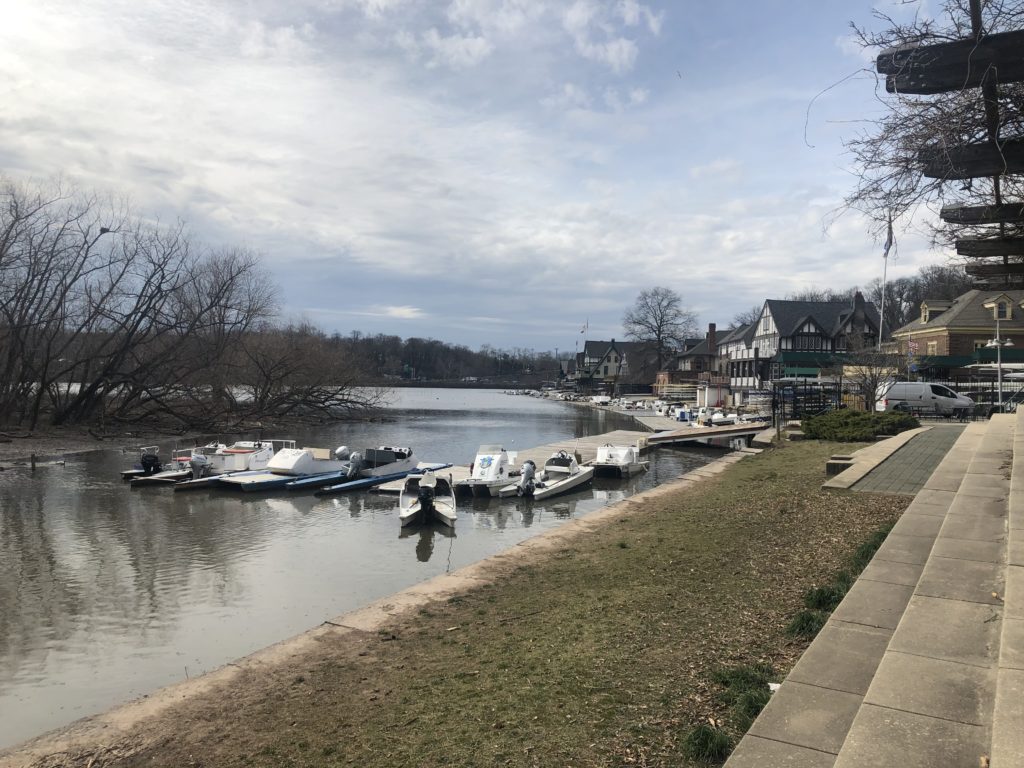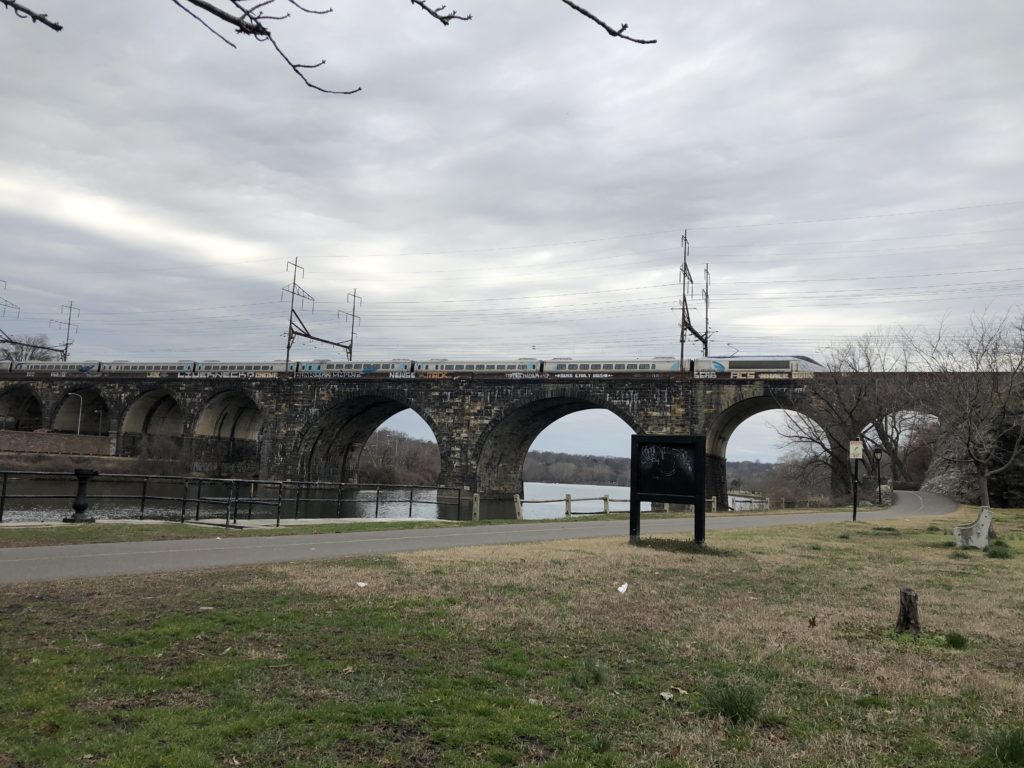 Not everything was identical, for there were no cows, but instead an extremely busy motorway on the other side of the river. It was nice to be reminded of a familiar place this far away from Europe.