The summer has been quiet, but I have been going on some long walks in Norfolk recently, so soon there will be East Anglia content again. Before that I want to end the series of special posts in which Usedom and Scotland were covered with some notes on a walk in Berkshire I did earlier this year. (The title of this post is thus slightly misleading, as only one Home County makes an appearance).
In a sunny week in spring I for some reason felt like going on a walk which included attractions with more mainstream appeal than those I usually visit, and therefore decided to walk from Ascot to Windsor. It takes a while to get there from Cambridge, but since I always enjoy taking a train from Waterloo station the journey didn't put me off. I had also considered to start the walk in the suburb of Martins Heron, which is one station further down the line from Ascot, as it was used as the location of the Dursley's house in the Harry Potter films. Although I decided against this plan in the end, I came across a long and detailed article about where the fictional town of Little Whinging is located within Surrey, which is brilliant as it even manages to come up with a plausible explanation of how the protagonists in the fifth volume manage to reach central London by heading southeast.
The butcher in Ascot seems to be famous, as there was a large queue leading out to the street when I walked past. I headed for the even more famous racecourse, however, and it turns out that it is actually open to walkers on non-race days.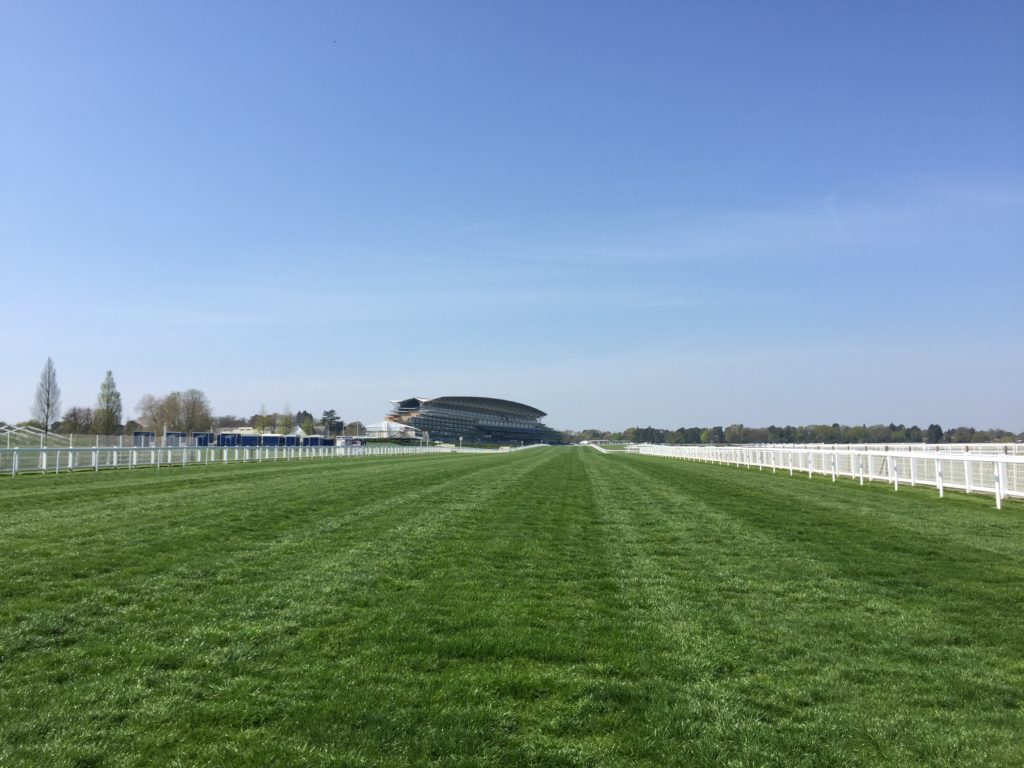 By now I had been walking for about 30 minutes, and realised that the sun was very strong but I had no sun protection. I therefore decided to quickly walk back to the High Street – where the queue at the butcher was still long – in order to buy sunscreen (since then I have also acquired a hat for unusually hot days). Having done this the actual walk could now begin.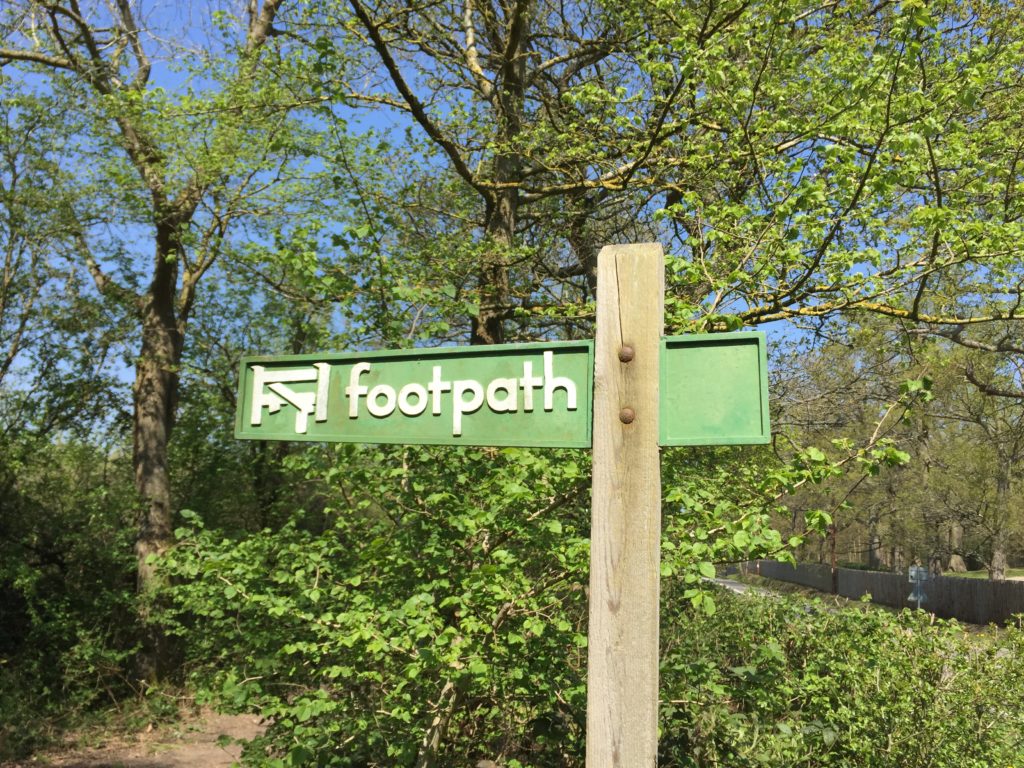 I followed some public footpaths which led me to the entrance of the massive Windsor Great Park (2,020 hectares). From here my first destination was Virginia Water Lake, which I thought had inspired a song by Roxy Music, but later it turned out that I misremembered and the name of the song is actually "Virginia Plain".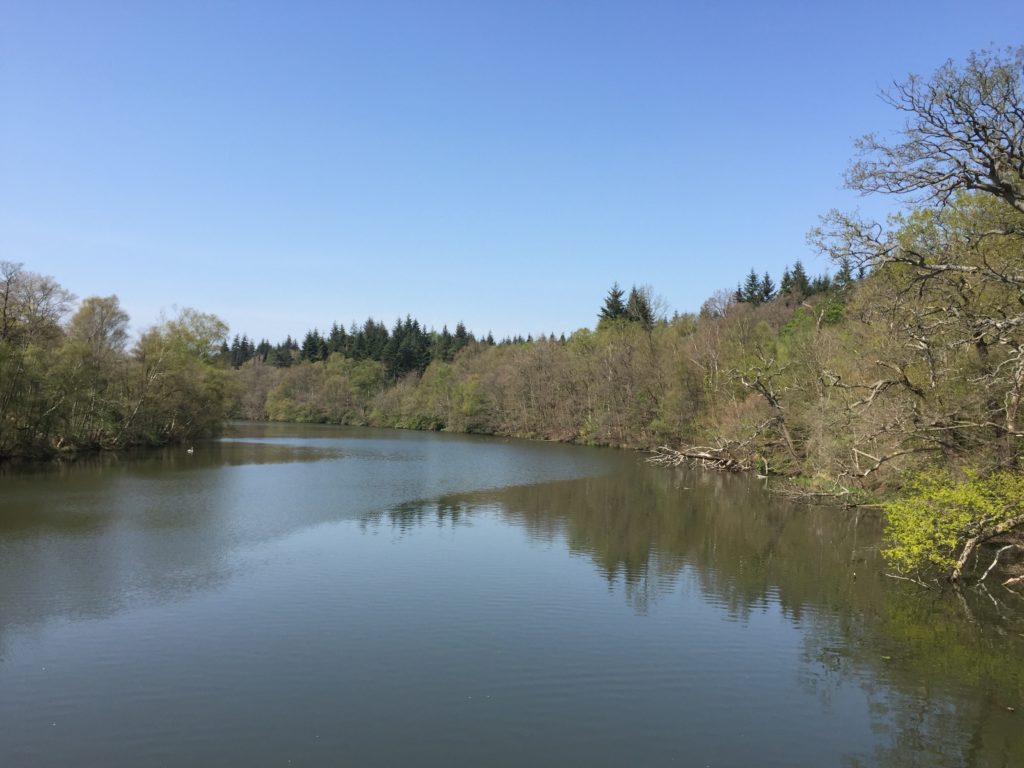 Unusually for my walks there were masses of other walkers around this time. I had expected this and feared that it might be annoying, but apparently few people venture more than 15 minutes away from where they parked their car, and so apart from a few clusters most of the park was actually surprisingly empty. The number of dogs probably even superseded the number of people, some of which had quite unusual names such as "Dustbin" or "Nutmeg".
Near the lake there are some nice gardens and a very peculiar pole. I ate my sandwich for lunch, fascinated by the elaborate picnic arrangement of some groups, which reminded me of one of my favourite The Avengers episodes: on a train John Steed announces that since there is no restaurant car him and Emma Peel have to "rough it", and proceed to unpack a small table, porcelain cups with saucers, different kinds of loose tea in a wooden box, and so on. (I already mentioned this particular episode before – I have seen others too though!)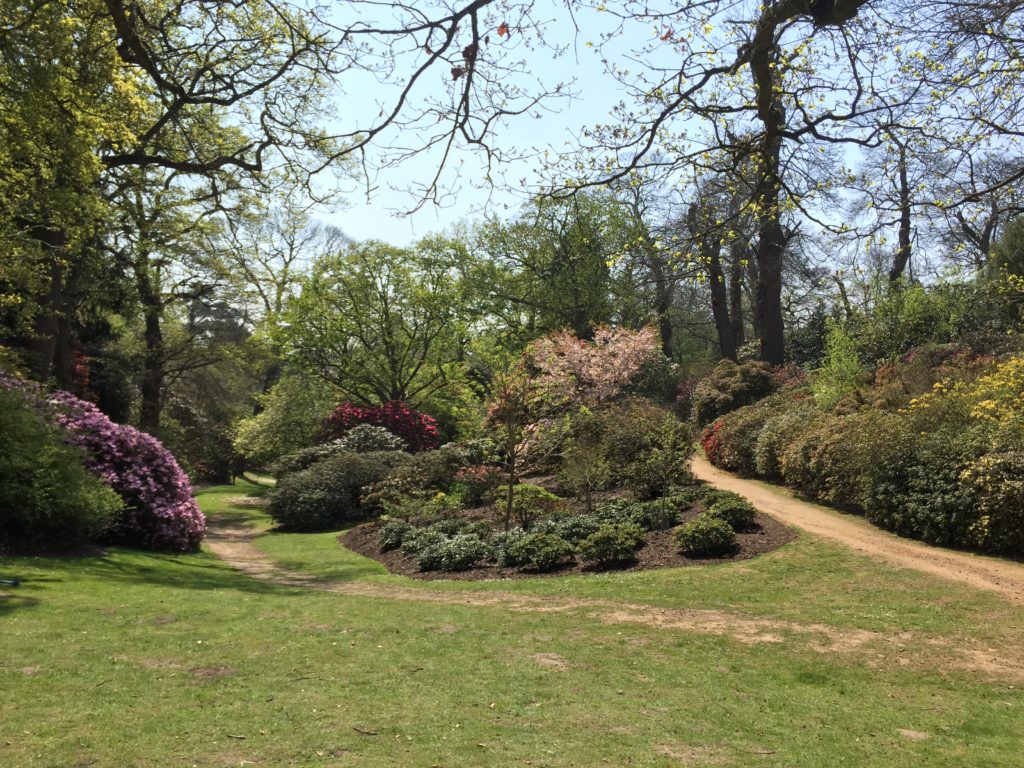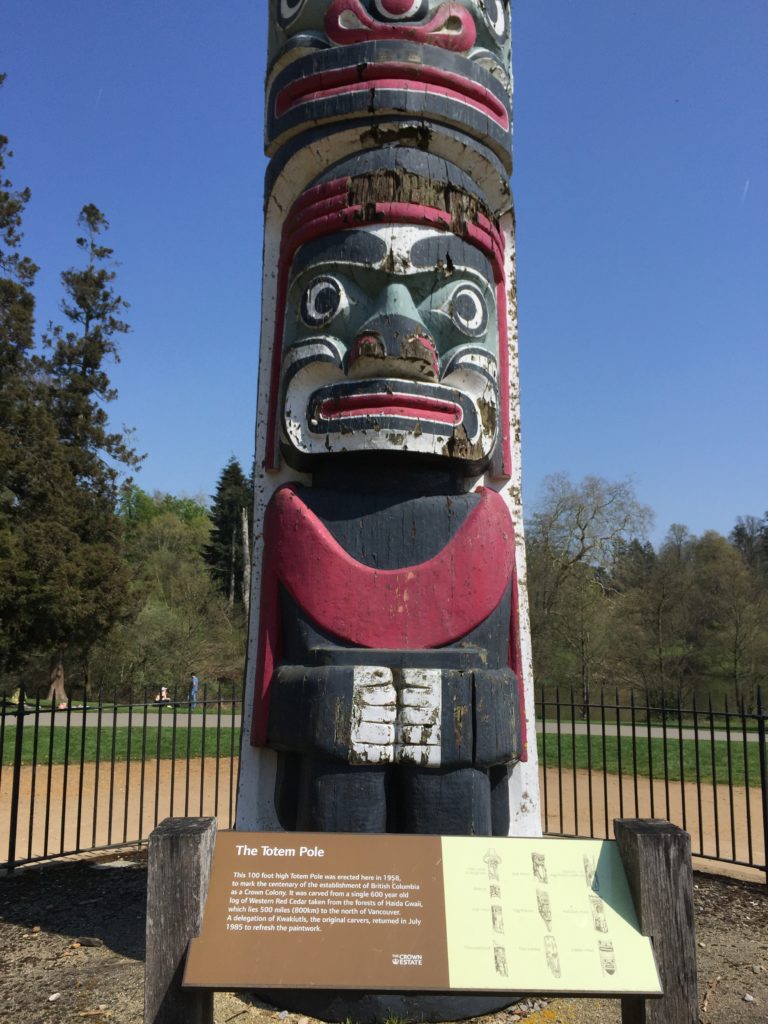 After this break I started to head north to get to the beginning of the so-called Long Walk, which runs in a straight line between Windsor Castle and the Copper Horse – a statue of King George III.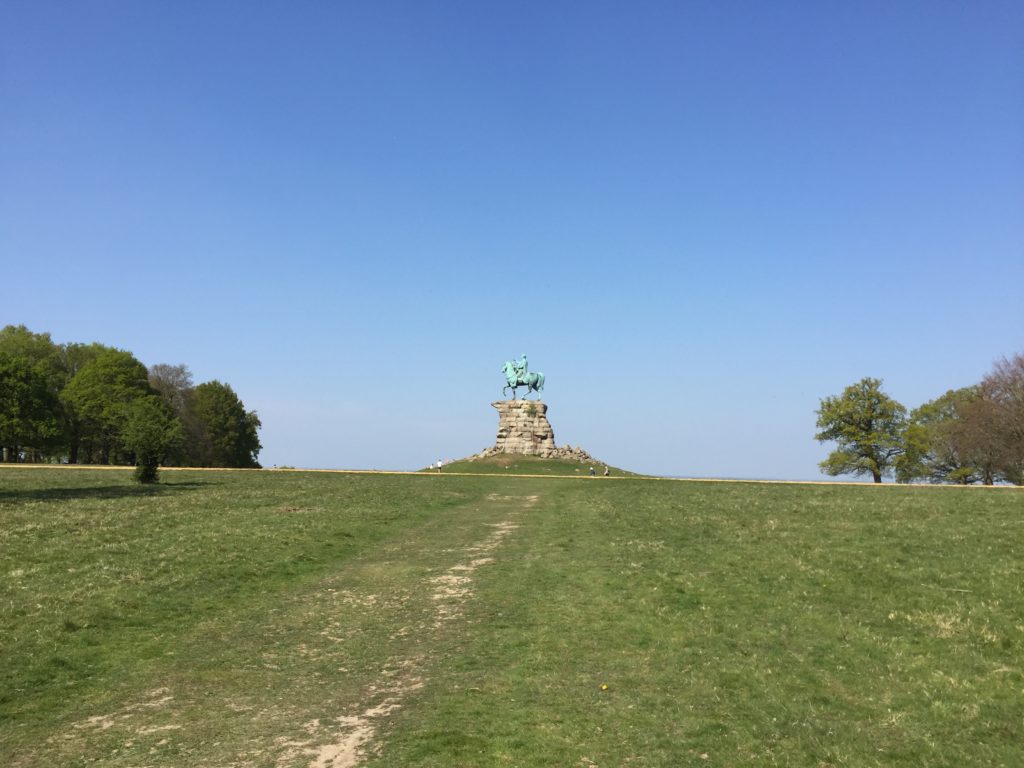 The view from here, which can be seen in the header image, is really spectacular. Straight ahead there is Windsor, and to its right lies Heathrow Airport, so one can watch planes landing and departing in rapid succession.
Although I took many pictures of Windsor Castle from the distance, I unfortunately failed to take any good ones when I was closer to it. On the other hand I quite like the following picture of a pub: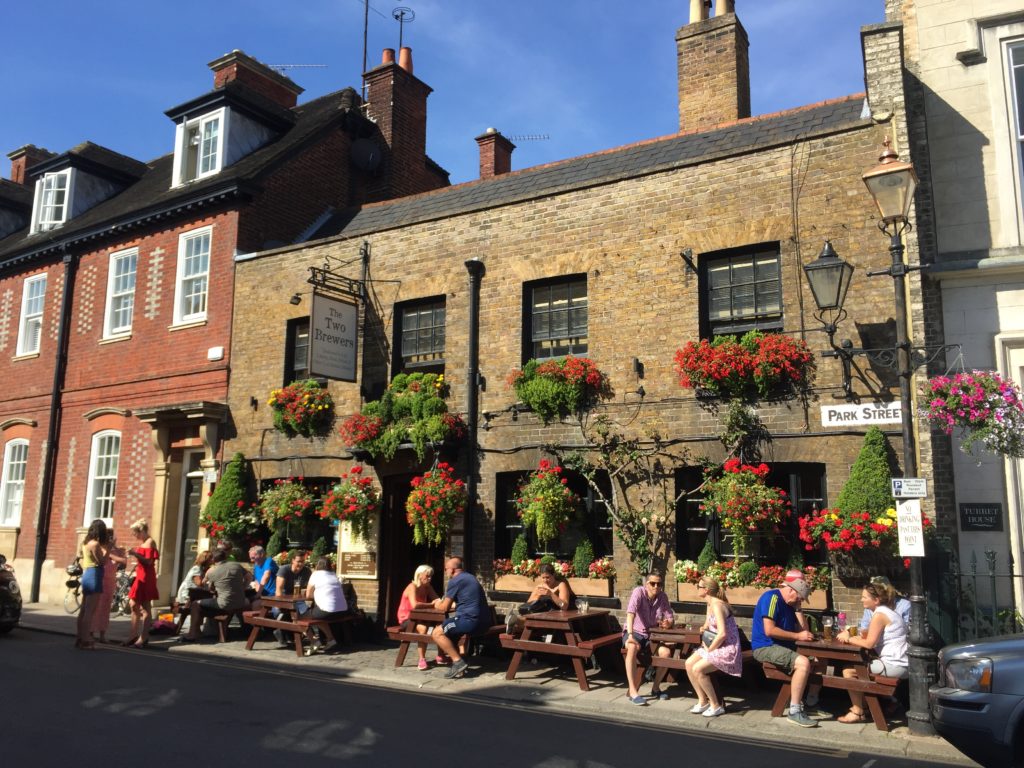 The town of Windsor itself is pretty, but hopelessly overcrowded – compared to this the centre of Cambridge on a weekend, which is already pretty bad, can count as quiet. I thus decided to minimise the amount of sightseeing I do in the town, and just had a brief look at Eton on the other side of the Thames.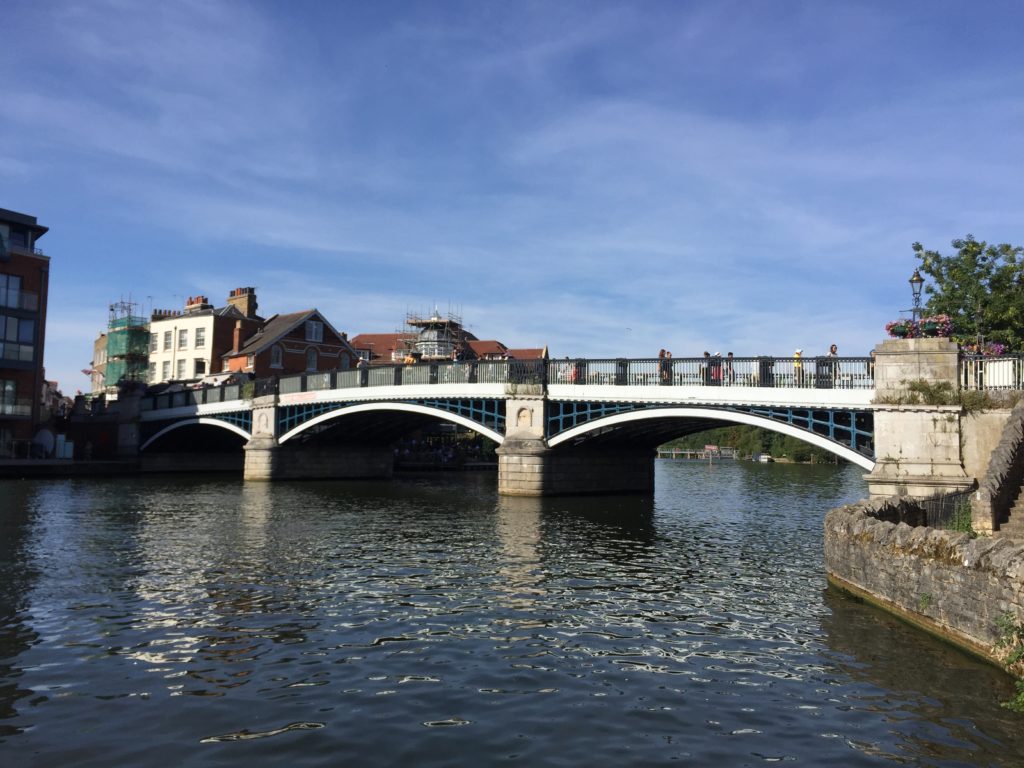 No surprises here: Not only the crowds of people are similar to Cambridge, but also architecture and terminology (there was a sign indicating where the "Porters' Lodge" is):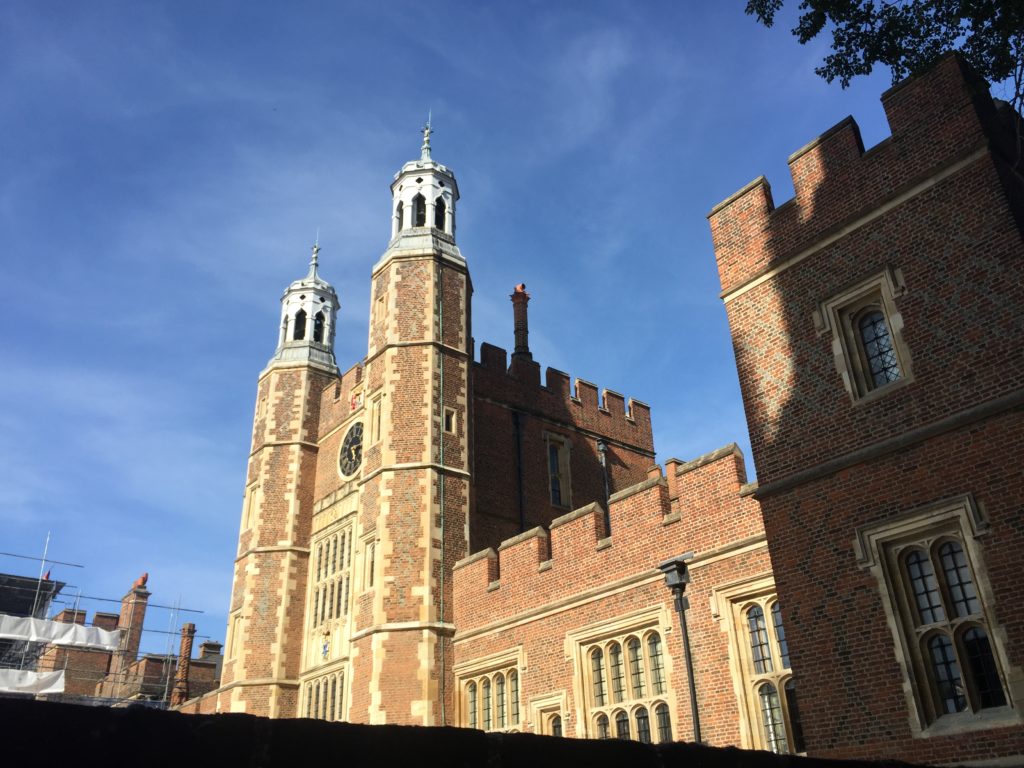 Windsor has two different railway stations: one by Great Western Railway, from which a shuttle train runs to Slough, and second one by South Western Railway, from where trains go all the way back to Waterloo. On a previous occasion I had walked to Slough and caught the train to Paddington from there. This time I headed back to Cambridge in a less idiosyncratic way.